Employers, taxpayers and insurers got a very loud wake-up call last month. If there was any doubt about the financial power of dispensing companies and their owners (we're talking you, ABRY) – and the unbelievable profitability of dispensing – that has been put to rest.
Physician dispensing companies spent over a half-million dollars on lobbying efforts to allow physician dispensing to continue in Pennsylvania.  Unlike battles in other states – Maryland, Florida, Hawaii come to mind – doc dispensing opponents were able to prevail despite an overwhelming disadvantage in financial resources.
In most other battles, we have lost, lost repeatedly, and lost badly.  That's what happens when you bring a knife to a gun fight.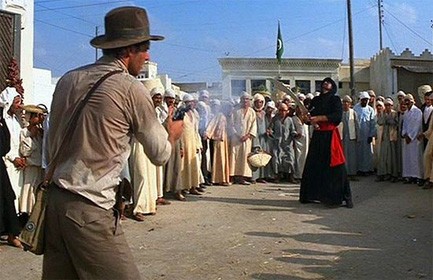 Yes, employers, injured workers, and taxpayers did win in PA, but only because we were there early, in force, and coordinated – an unfortunately uncommon event.  We managed to overcome dispensing companies' overwhelming financial resources only with a concerted effort on the part of many, many people and organizations coupled with strong leadership from key influencers and committed and persistent legislators.
Meanwhile, we're finding that the measures taken in Connecticut to reduce costs of physician dispensed repackaged drugs aren't working out so well.  A just-released WCRI study indicates that, while prices are down from pre-reform days, doc-dispensed drugs still cost 30 to 60 percent more than the same drugs bought from a retail pharmacy.  In my view, there are a few reasons…
Docs are dispensing a lot of over-the-counter drugs at prices far higher than the OTC retail price.  We're talking generic Tylenol(r), Prilosec, etc.
Dispensing companies are likely sourcing their drugs from manufacturers with high AWP prices; these manufacturers give dispensers a big discount, allowing them to make more money on the "spread" between their cost and what they charge work comp payers.
The "contract" manufacturers that have targeted the work comp dispensing industry are selling direct to dispensing companies at prices very close to – if not more than – the repackagers. This allows them to get around the "original manufacturer" price that's set as the cap in CT.
PBMs get a hefty discount below the fee schedule which reduces employers' costs rather dramatically – this discount isn't available from doc-dispensed drugs.
What does this mean for you?
1.  Employers, insurers, and their allies need to get serious about physician dispensing.  It is costing taxpayers and employers about a billion dollars a year.
2.  Regulations/legislation based on "original manufacturer" language, while helpful, are readily circumvented by dispensing companies.
3.  Banning dispensing outright – as Texas, Ohio, Washington, North Dakota, Massachusetts, and New York do – is by far the best answer.