Service workers are VERY replaceable.
Amazon just opened the first cashier-less grocery store.
2 million trucking-related jobs are likely to disappear within a decade. Consumers' costs for goods will go down significantly, driven by lower labor, fuel, insurance, and maintenance costs.
What is only just beginning to happen in the service economy is already well underway in manufacturing. Despite all the blather about US manufacturing's decline, the fact is we remain the second largest manufacturer in the world, not far behind China. Yes, employment has declined dramatically, but productivity has increased by leaps and bounds.
US manufacturing:
is over a third of our GDP
is valued at over $6 trillion annually in output
is larger than the next three countries – Japan, South Korea, German – combined.
Since 1947, we've figured out how to make five times as much stuff with 13% fewer workers.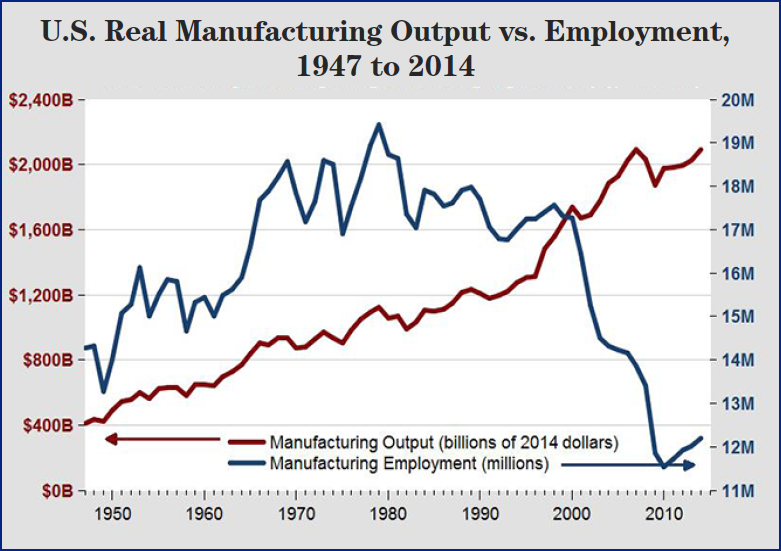 source – https://audiotech.com/trends-magazine/the-american-manufacturing-renaissance-becomes-a-reality/
I bring this to your attention, dear reader, to pose the following questions.
What happens when trucking jobs disappear? Higher work comp claiming rates? Much more difficult re-employment?
What happens when cashier jobs disappear? Same thing?
As automation gets cheaper, takes on more human functions, and extends into more and more areas, wage growth is very likely going to suffer – people don't compete well with machines. What happens to work comp premiums?
In all the talk about the need to reform workers' comp, there's been very little discussion about these existential threats to the industry.
What does this mean for you?
You don't need to "reform" an industry that won't exist in a dozen years.