There's lots of news out there about the Congressional Budget Office's scoring of the Republican healthcare reform bill known as AHCA; we'll narrowly focus on what passage of AHCA would mean for workers' comp – and highlight what's missing from every other analysis of the CBO report.
Briefly, I'd expect case-shifting and claims-shifting to workers comp to increase significantly, resulting in higher work comp expenses for employers, and more business for the work comp service industry.
Here's why.
The expansion of Medicaid and the individual mandate covered about 13 million more workers than pre-ACA; 81% of Medicaid recipients' families have at least one member working. When workers who have health insurance get hurt, they are less motivated to claim it was on the job. And, if they are hurt on the job, work comp doesn't have to pay for non-occupational medical conditions (e.g. dealing with hypertension before doing surgery).
The newly insureds are also working in jobs with higher claim frequency than average.
Some argue that the high deductibles and copays common in some insurance plans negates my argument; I respectfully disagree.  That's because the newly insureds are poorer than average, thus they are much more likely to either:
get premium support payments from ACA which also cover deductibles and copays or
be covered by Medicaid, which has no cost-sharing (except in Indiana).
Since ACA was fully implemented in 2014 we've seen historically-low work comp medical trend rates, a strong indication that ACA is a major factor in lower work comp costs.
14 million will lose health insurance next year
7 million more by 2020
another 5 million will lose coverage by 2026
most of those losing coverage would be older
deductibles and copays would be higher than under ACA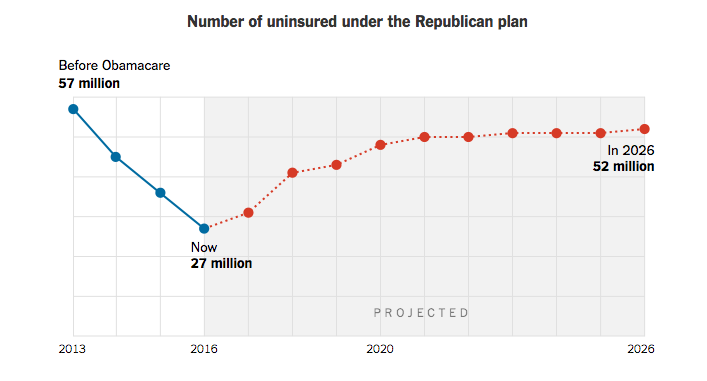 (credit Washington Post)
All of these projections are bad for work comp; older workers' injuries are more expensive, and the higher deductibles and copays, along with a big drop in Medicaid coverage, would financially motivate workers to "claim shift."

(credit Washington Post)
So, those losing health insurance would be:
much older
more likely to be employed in higher-risk jobs
more likely to be currently covered by Medicaid
What's missing
…from all of the press reports and analyses of the CBO report is a discussion of how providers would react to passage of AHCA. That's in part because the CBO report (full copy here) doesn't address the issue.
Insurance coverage is just part of the story; doctors, hospitals, pharma and other providers are going to be hugely affected by a big decrease in their customer base.
More on that tomorrow.
What does this mean for you?
For work comp payers, higher claims and higher medical bills.