Opioid prescriptions continue to drop, down 22% from 2013 – 2017. That's great news indeed…but there are still far too many. The press release from the AMA calls for more Medication-Assisted Therapy, expanded treatment and access to that treatment  – all needed.
One statement in the AMA release really bothers me:
Physicians and other stakeholders accept that bold action is needed. We go where the evidence leads us.
Bullshit.
Reality is, too many prescribers went where the marketers led them, rarely asking the right questions, accepting at face-value claims of smiling detailers, mindlessly mis-citing "Porter & Jick" as rationale for ever-escalating doses of opioids.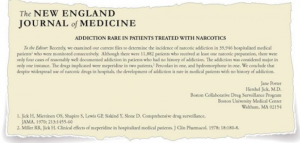 If the AMA's statement was true, we never would have had the opioid crisis in the first place. We all know NOW that the "research studies", "evidence", and "literature" used to get docs to prescribe mountains of pills was incredibly weak, completely mis-characterized, and/or non-existent.
We all make mistakes…in this case prescribers made a monumental one. If the AMA accepted some level of responsibility for the opioid crisis and spent a lot less time lobbying against mandatory Prescription Drug Monitoring Programs and quibbling over dosage levels I'd be a little less angry.
I've long pilloried many for their role in the opioid crisis, and many readers have as well. It's long past time the AMA and their fellow travelers acknowledge the harm they caused – and continue to cause – by NOT "going where the evidence leads them."
Then, and only then, will they will be a credible part of the solution.
What does this mean for you?
Taking responsibility is rarely easy, often painful, and always needed.