The best was saved for last at NCCI's Annual Issues Symposium. After Gen (ret) Colin Powell warmed up the crowd, NCCI's Barry Lipton and CWCI's Alex Swedlow took to the stage to educate us on networks and outcomes.
First, California. Average medical costs have gone up 4.3x in CA since 1990; while there have been lots of regulatory and legislative efforts to add guidelines, enable managed care, and increase network usage, ultimate medical costs now are over $37k.
Network penetration in CA is now around 84% for physician services – where it looks like it has peaked.  Along with this increase has come an increase in administrative expenses.  WC Admin expense in CA now accounts for 53% of work comp costs, more than twice the average across the nation.
41% of those costs are for med management (31% for defense attorney expense). Bill review and network account for 47% of those medical management costs, UR is the remainder. (these percentages have been pretty static over the last decade).
So, what are you getting for all your millions?
Fortunately, CWCI's done a lot of work to evaluate that very question. And they dug really deep. The slide below describes the data points CWCI used in their network evaluation.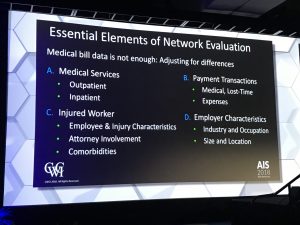 Swedlow et al then looked at individual networks, comparing 11 different networks' outcomes for claims (case mix adjusted, incurred between 2011-2014, developed thru 2017). Lots of takeways that will be published in a few weeks after final editing.
But here's a spoiler –
There's a huge amount of variation between networks, and some are delivering excellent results while others are worse than no network at all.   I direct your attention to the right side of the picture; note that average case-mix-adjusted cost per claim varied by 82 percent.
If you used the MPNs on the left side of the graph, your medical loss costs per claim would be over $11,000 lower than if you used the MPNs on the right.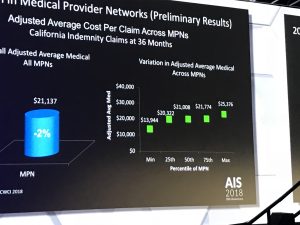 And, your patients would get back to work two months earlier.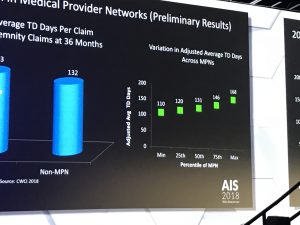 My takeaway is this – there are two types of MPNs; the State Fund and Kaiser Permanente On-The-Job type that is outcome-based, highly selective, and focused on care. This Outcome-based MPN, Or O-MPN is on the left of the screen.
And the revenue-based, that are focused on generating dollars off savings below fee schedule and other meaningless standards. On the right of the screen, the revenue-based MPN, or R-MPN, is huge, includes every provider in the book and some who haven't been in the book for some time, is completely unmanaged, and generates beaucoup bucks for the payers that use it.
Lots of other great insights in the session which I missed – I had to run to get to the airport.
What does this mean for you?
Depends…Is your MPN an R-MPN or an O-MPN?