The headlines were comforting – not much change in the number of Americans without health insurance.
Before you breathe that sigh of relief, you'd be well-advised to dig a bit deeper, because there's plenty of bad news just under the headline.
While the national number of uninsured stayed about the same, that's irrelevant to you – because healthcare is local. Here's what I'd be worried about.
Young adults are almost twice as likely as older adults to be uninsured – about one in six younger adults don't have coverage.
Takeaway – no health insurance = more incentive to file work comp claims
Over a quarter of working-age Texans don't have coverage. Georgia, Florida, and North Carolina are not far behind

Takeaway – no health insurance = poorer health status, more comorbidities, more charity care for providers thus more incentive to cost- and claim-shift.
44% of working-age adults were covered by high-deductible plans – but more than half of them don't have health savings accounts needed to fund those high deductibles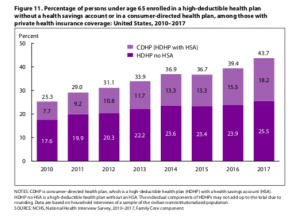 Takeaway – "High" deductible healthplans aren't much different than no insurance at all if the patient can't afford the deductible – and over half can't. So, more incentive to cost- and claim-shift.
What does this mean for you?
Workers' comp will be affected by the Administration's ongoing behind-the-scene effort to hollow out the ACA and cut funding for Medicare and Medicaid.