High deductible health plans do not work.
These plans, also known as HDHPs are the bluntest of instruments, intended to make patients more cost conscious and better consumers by making them pay the first few thousand dollars of their healthcare bills.
Instead, patients avoid care they should get, go bankrupt trying to pay sky-high deductibles, and even worse, don't do a damn thing to get high utilizers to modify their lifestyle or care decisions.
Lazy benefits managers and employers looking for a quick fix to rising premiums continue to tout HDHPs despite the warning signs. Now, over a decade after these plans first became widely popular, some employers are finally getting the message.
I'd go so far as to argue that HDHPs help drive health care costs up; sick folks get sicker because they can't afford preventive and routine care, while the 20% of members who incur 80% of the healthcare costs blow thru their deductible in March and then have no financial inhibitions.
Research shows most of those high utilizers don't shop for care. I don't see this as dumb behavior, rather a result of dumb plan design. If you've already paid your annual out-of-pocket maximum, you have no incentive to ask what something costs or even if you need that care.
I've been railing about this for years…alas, with the same effectiveness as Cassandra…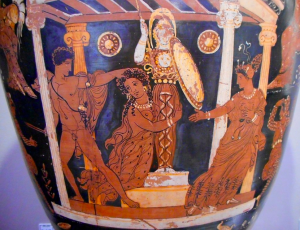 So, if you're looking to benefit design to control costs, what's a better alternative?
Simple.  Replace deductibles and copays with co-insurance.  That is, have consumers share in the actual cost.  If treatment costs $100, then the consumer pays $20; if it is $4000, then the consumer pays $800.  This will make the consumer cost conscious without breaking their bank.
I understand that this will require the consumer, provider, and health plan to know what the cost of care is, ideally before treatment.  That is another major benefit of a co-insurance based program; it will speed adoption of transparent pricing and make consumers much more discerning buyers.
Yes, keep an out of pocket limit to protect consumers.  High utilizers will feel the pain of paying co-insurance far longer than they do today.  As a result, they will be better consumers overall.
What does this mean for you?
This isn't that complicated, nor is it difficult.  Health plans that do this will gain a competitive advantage.