You need to know basic stuff about Medicaid because:
Medicaid may well become the model for your health insurance
It covers more working-age people than any other payment type
Your state and federal tax dollars pay for Medicaid.
So, here are the basics.
Medicaid covers one out of five Americans.
Most Medicaid dollars go to the blind and disabled.
Medical care for poor adults accounts for a third of Medicaid spend
Poor kids use a fifth of Medicaid dollars

The rest is mostly for nursing home care for folks with very limited income or assets – in fact, Medicaid is the major payer for nursing home and similar medical care.
Medicaid expansion (covering people just above the poverty line) is now in place in 34 states (plus D.C.); 2 are implementing, and 3 more are considering expansion.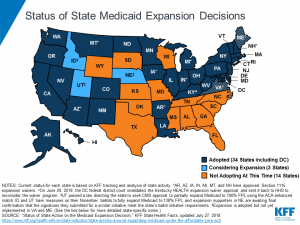 Lastly, my bet is we'll have some form of Single Payer within the decade – and Medicaid will be the model.