This election is about your health and your family's, because:
"Virtually every American has someone with an existing health condition in their family at any given time" 
Dan Mendelson, CEO, Avalere
(Note to readers – this isn't a "liberal" or Democratic post, it is a factual description of reality. If you disagree, please provide citations to support assertions)
Today, you are protected because under current law (the ACA, aka "Obamacare")  insurance companies can't refuse to provide coverage or charge you more if you have a medical condition.  
Those protections will go away if Republicans have their way. 
According to Avalere,
Over 50% of Americans enrolled in coverage outside of the major public programs could face medical underwriting or be denied access to coverage or care without the protections for people with pre-existing conditions contained in the ACA.
Here's why.
Last year Republicans came within one vote of repealing the ACA – with NO replacement plan in place.
House Republicans voted over 54 times to repeal ACA – with NO replacement plan in place.
The "short-term" and "association" healthplans proposed by Republicans let insurance companies charge you anything they want if you or a family member have a pre-existing condition.
These short-term and association healthplans can pick and choose what healthcare services they cover – they don't have to cover drugs, pregnancy, or emergency room care, or anything else they bury in the fine print.
If you or someone in your family has had:
heart disease, high cholesterol, or high blood pressure
anxiety or depression or any other mental health condition
obesity
diabetes
cancer
or is pregnant,
your healthcare is at risk.
I have no problem whatsoever with principled Republicans – or anyone else – wanting to overturn the ACA. I have a big problem with anyone who's lying about what they are doing.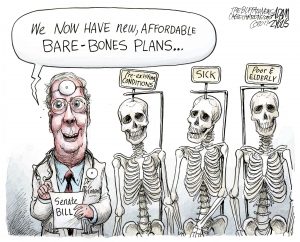 Fact is the GOP has tried over 50 times to let insurance companies refuse to cover your pre-existing conditions, they are pushing a suit that would do the same thing, their bills in Congress will let insurance companies charge you anything they want, yet they are claiming they will protect you.
That's just a lie.
What does this mean for you?
Do you want insurance to cover your pre-existing medical conditions?