Sorry, too darn busy this week to get my usual 4 or so posts in.
Had a very interesting conversation with a work comp services exec earlier this week which got me thinking about "portals" – those internet entry points where payer staff can access bills, reports, notes, alerts and other documents and messages about their claims.
Turns out portals are more shiny object than productivity enhancer…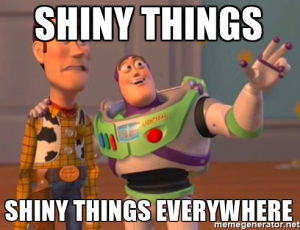 The point the exec was making was that management always wanted to see and hear about the portal – but desk-level folks rarely used it. Adjusters and case managers preferred emails and other more direct and specific communications over logging into and clicking thru a portal to find specific information. And, user preference for direct communication was overwhelming.
The exec's point was a lot of resources are devoted to developing, implementing, upgrading and maintaining these portals – which aren't used by the very folks they are built for.
In a very unscientific poll, I asked a few other contacts about their customers' use of their portals; all agreed that desk-level users didn't use them much – if at all.
As in one out of 10 or 20 desk level folks even logged into the damn thing
There's a critical point to be made here – the people who make buying decisions want/demand that potential vendors invest a ton of brain power and dollars into a thing that doesn't add any value.
What does this say about payers; I'd suggest it shows a disconnect between the buyers of services and the users of those services that is rather striking – and all too common.
Let me go further – the buyers need to understand they are serving the needs of the desk-level folks. Anything and everything the buyers – who are almost always higher-paid and have nicer offices than the people who actually do the work – do should be grounded in and specific to how the users actually do their jobs.
I would argue that the "blame" for this is shared by vendors, who need to do a MUCH better job challenging buyers' firmly-held-and-very-wrong perceptions.
But that's pretty unfair, as buyers tell potential vendors what they want, and if your proposal doesn't check the "portal" box, you're toast.
The larger point is even more disturbing; I daresay this isn't the one-and-only example of the management-worker disconnect.
Example – in our bill review and UR services, execs believe UR and bill review are connected via EDI or directly while users emphatically disagree.
I'd love to hear what you think. Shoot me examples of the management-user disconnect in the comments section below to help focus us on stuff that actually helps the desk-level folks do their jobs.
Instead of shiny objects.
What does this mean for you?
There's precious little "mistake room" in work comp; wasting valuable resources and time on projects with little benefit is dumb.
(in this case, helpful comments by anonymous posters are welcome!)