NCCI Chief Actuary Kathy Antonello's presentation on the state of the industry has just too much information for a single post – so here's three key details.
Reserves
Private carriers are over-reserved. That means there's several billion dollars of excess cash on carrier books. I'd note that this ASSUMES the projections are accurate, and that losses for already-incurred claims don't get worse (or, in insurance-speak, develop upward).
Frequency
Lost time claim frequency declined by 1 percent last year – significantly less than we've seen over the decade. My take is this is related to several factors.
Employers aren't focusing on work comp issues – e.g. safety and loss prevention – as premiums are so low that they aren't a problem.
Hiring standards have been relaxed as we're at full employment
More overtime is being worked, leading to higher injuries due to tired workers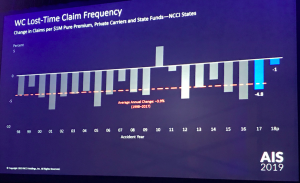 Severity
Medical costs went up a mere 1 percent in 2018, continuing a trend of relatively low increases that's persisted since 2008 (the jump of 4.1% in 2017 looks like an aberration).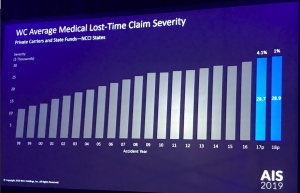 What does this mean for you?
Workers' comp is not a problem for employers – which means it will get little attention from legislators.
When buyers aren't experiencing pain, they have little reason to buy.