For a relatively small industry, there sure are a ton of conferences.
From WCRI to NCCI to AASCIF to CSIA to CLM to PRIMA to NWCDC to SIIA to WCI360 to RIMS to AFERM to the ExecuSummit and dozens of other national events, to state WC events in Montana, California, Georgia and every other state, to payer-sponsored confabs, to provider-centric events you could spend most of the year scheduling, traveling to, preparing for, and attending conferences.
While there's no doubt a lot can be learned – at some events from some speakers – it's also pretty clear we've got so many conferences it has become impossible to figure out which ones are the most useful, provide the most insight, and are the most efficient use of your time.
On top of the sheer number of events, there are three additional issues; many have become pay-to-present, and the emphasis on drawing specific types of attendees has affected – I would argue negatively – actual learning opportunities.
Lastly, there's far too much navel-gazing and far too little emphasis on external factors that directly affect workers' comp.
Allow me to explain.
It is damn near impossible to get a speaking slot at many events unless your employer is a conference sponsor or a very large employer.  That's not to say some presentations aren't useful and worthy of your time, and some listeners can't come away with something useful. Rather it is to call attention to the lack of diversity among presenters, the seemingly repetitive topics, the lack of much of anything new or insightful.
Do we really need another session on return to work or managing cat injuries or heaven forbid, predictive analytics?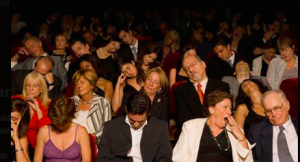 Yeah, I get there are always folks new to work comp that find value in learning the basics, but there's far too much time spent rehashing things that have been hashed to death.
There are innovative, smart, insightful entities and people out there who are pushing the industry to be better, innovate, do stuff smarter. It's often tough for them to get a slot because they aren't able to sponsor internet cafes, refreshment breaks, newsletters or buy big exhibit space.
Second, some conferences push to include speakers from types of organizations that potential attendees want to meet, get to know and hopefully do business with. One example is the emphasis on employers, which appears to be based at least in part on the idea that more brokers and consultants will attend.
Ostensibly the point in having an employer talk about an issue, solution, approach or program is so other employers can learn from that. While there's a kernel of value there, I'd argue that what is relevant for a big airline, a major big-box retailer, a multi-state manufacturer or large healthcare system is not going to be terribly relevant to the other employer types on the list.
I can't count the number of times I've heard "well, if I had a thousand workers in XYZ city I could negotiate with an occ clinic too", or "how do I apply that to my interstate trucking company" or "yeah that's not going to fly with my unionized workforce".
Finally, when was the last time a presentation dove into:
the impact of provider consolidation on healthcare delivery and cost;
why and how healthcare systems and hospitals are driving up expenses;
how recessions impact workers' comp;
the second-order effects of opioids and the dramatic reduction of same on claim reserves, future premiums, and actuarial models; or
the changing nature of our economy and how that will affect workers' comp
I know these topics have seen some daylight, but nowhere near enough, for they are MUCH more important and will have MUCH greater impact than tweaks to RTW or cat injury management ever could.
What does this mean for you?
For conference planners, there's an opportunity to break out from the usual and differentiate.
For conference attendees, reward those planners – and learn a lot more useful stuff.