Quick take – we don't know.
Before you read this – don't freak.  Yes this is worse – much worse – than I thought, but panicking and reacting without thinking is NOT helpful.
First, the facts.
In the US, 114 of those who tested positive have died.
We do not know the death rate for three reasons.

The death rate I (and others) have been quoting is likely misleading – and may be too low
That's because the number of cases is expanding rapidly but people don't die immediately.  This from the Lancet, based on data from China (as with any early assessment the numbers are rough)
patients who die on any given day were infected much earlier, and thus the denominator of the mortality rate should be the total number of patients infected at the same time as those who died. [emphasis added]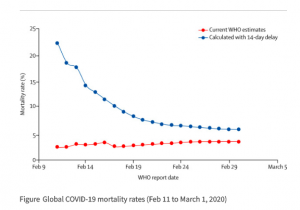 The blue line is the more accurate figure and indicates a death rate of 5.7%.
But…
Because of the lack of testing (especially early on in China and for far too long in the US), there are a lot of people with mild symptoms or no symptoms that are undiagnosed. Therefore, the denominator (the number on the bottom) is too low. This means the estimated death rate quoted above is likely too high.
Anecdotally, I've heard from healthcare workers that some patients dying of respiratory failure were not tested for coronavirus – thus these deaths aren't counted as related to COVID-19.  Anecdote is NOT data…that said due to the lack of tests, I'm betting the actual number of deaths is higher than reported.
Okay, pretty scary stuff.
What's scarier is doing stupid stuff – and there is nothing stupider than hoarding toilet paper.
Coronavirus will NOT destroy the supply chain – it will lead to disruptions and delays, but anytime people hoard stuff, that means they won't need to buy it for a long time. So, while shelves may be empty today, when the supply chain catches up – which it will – there will be lots of pasta, rice, canned food, and yes, TP on those shelves.
What does this mean for you?
Let's take a lesson from our friends in Italy; be kind and thoughtful, smile at everyone, say hello, and remember we are all in this together.
Oh, and do a lot of takeout and tip generously!