First, a clarification.
Last week's post re NCCI's virtual Annual Issues Symposium needs clarification.
Before I published the post I asked NCCI to comment on the lack of any reference to COVID claims counts in the presentation, saying "Any early data would have been quite helpful; any comment?" I received a response and published it in the post. NCCI's response did not indicate that it did not yet have any Q1 data.
After the post was published, NCCI wrote me to clarify, stating they won't receive any data on Q1 claims until October, 2020 at the earliest.
NCCI CEO Bill Donnell wrote me as well; here's the relevant part of that email:
I wanted to respond to what I would label a policy issue. The post includes a sentence…"I can understand why NCCI-and other research organizations don't want to provide any data that might encourage politicians to look to WC to cover the costs of Covid-19." I take issue with this because it implies that we would withhold data for political reasons (my interpretation).
Fair point.
If I had known NCCI didn't have Q1 data, I would not have made that statement. However, Bill's concern is valid and I should have been more careful with my choice of words – and will be in the future.
Workers' comp has made remarkable progress preventing overprescribing of opioids to new patients – but there's much to be done to address chronic pain and long-term opioid use.
One therapy that must be considered is medication-assisted therapy. From HealthAffairs comes new research indicating the long-term use of buprenorphine shows significantly better outcomes than short courses of treatment do.
Research estimates that 28 million surgeries have been postponed or will not be done over a 12 weeks period due to COVID. That's a major reason US health systems are in dire financial straits…to date, average losses are $400 million. 
Colleague Peter Rousmaniere is having a very productive "retirement"; his latest post at Working Immigrants includes these findings:
Nationwide, one quarter of practicing doctors are foreign born [emphasis mine]
23% of all science and engineering workers are foreign born (40% in California)
COVID will alter the US healthcare system – experts opine on 9 potentially significant changes.
One potential change will likely NOT include ingesting camel urine to cure COVID…despite a claim that drinking a glass of the elixir three times a day for three days will do just that. (btw, camels are notoriously cranky…one wonders how amenable they are when a urine collector involves himself in a very personal process… and would any injury be compensable?)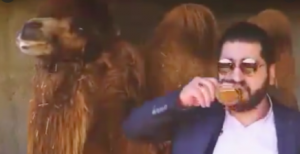 There is one bright spot…unlike some other unproven cures, ungulate urine won't cause heart attacks.
What does this mean for you?
Be careful with assumptions, thank your immigrant healthcare worker, support medication-assisted therapy…and keep your sense of humor.