We are in the midst of a national pandemic, where:
3 million of us have been infected;
over 20 million have lost their jobs, and likely their health insurance;
many states – including those hardest hit – haven't expanded Medicaid, so unemployed folks are now uninsured; and
healthcare providers are laying off workers and others are shutting their doors.
Yes, Congress has appropriated funds to help cover the costs of COVID19 treatment, but those funds are likely woefully insufficient – especially now that the infection rate is exploding. Oh, and the Administration notes that its program to reimburse providers for treating uninsured COVID-19 patients is "subject to available funding."
As hospital costs alone for these patients could be between $13.9 billion to $41.8 billion, that's a huge caveat.
Into this disaster, the White House and Republicans are seeking to overturn the Affordable Care Act, which would:
end Medicaid expansion,
allow insurers to deny coverage,

based on pre-existing conditions,
for adult dependents up to age 26

allow insurers to charge whatever they want,
and allow insurers to limit payment or refuse coverage for any type of medical care they want.
So, 3 million of us now have been infected with COVID-19. Those unfortunates now have a pre-existing condition, which would – if the ACA is overturned – mean health insurers would be able to reject them and/or raise their premiums as much as the insurers want.
Let's not forget many of the rest of us also have pre-existing conditions; personally I had cataract surgery years ago and several orthopedic injuries which would subject me to limits on coverage.
What's even worse is the White House and Republicans have no alternative, no replacement plan, no solution or stopgap.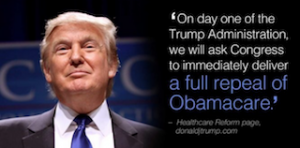 Nope, they want to blow up the current system and replace it with…nothing.
What does this mean for you?
Nothing good.