myMatrixx released it's annual Drug Trend Report yesterday; there's a lot of good news – and a few trends that bear close attention.
The good stuff (lots more in the report itself)
drug costs per patient decreased by 2.4% despite a 1.9% increase in utilization
opioid cost per patient continued to drop, this time by 10.7%
comparing claims incurred in 2019 to those incurred in 2016 or earlier:

45% fewer patients were prescribed opioids
the average days supply dropped by 2/3rds, from 28 to 9
the average morphine equivalent dose dropped by 40%
Stuff that demands your attention.
Many payers are working hard to close older claims. For claims older than about 8 years, pharmacy costs account for almost half of medical expenses. Obviously, ensuring the drugs prescribed and dispensed to long-term patients are still appropriate and are helping the patient recover is the first step in developing a plan to resolve these old – and very expensive – claims.
Specialty meds are becoming increasingly common – and increasingly costly, accounting for 8.8% of drug costs.
The bad stuff
Physician dispensers are the worst. They suck money out of employers and taxpayers, justifying their rampant profiteering by lying about maintaining patient access and improving care. 
Their latest scam is topicals. One out of every eight physician dispensed meds is a topical, but one out of every three dollars you pay for physician dispensed drugs is for a topical.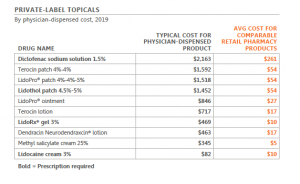 chart used by permission
One – methyl salicylate cream 25% – is available at retail pharmacies for about five bucks. Physician dispensers are getting $345.
I'll save you the math – you are paying 69 times more than you should.
There's a lot more detail in myMatrixx' report – you can download it here.
What does this mean for you?
While payers and PBMs have made remarkable progress addressing opioids and controlling costs, much remains to be done:
keep the focus on long-term opioid patients
aggressively attack physician dispensing
if you don't have a specialty med program, you'd best get one set up.(myMatrixx is an HSA consulting client)