Thank you, CWCI. Due to it's diligence and foresight, we now know:
through June 30 there were 14,487 COVID claims reported to California's DWC;
this amounts to 6.3% of all confirmed COVID cases (data from JHU);
the vast majority of COVID claims reported have been accepted;
and perhaps the most important data point…
Total claims (COVID and non-COVID) dropped 28.8% from the first half of 2019 to the first half of 2020. (note this is corrected from my original 36.4%)
Kudos to the fine folk at CWCI; they have produced the first data-based report on all things COVID. It is quite user-friendly, highly credible, and interactive, allowing users to analyze California-specific on COVID and non-COVID claims.  The tool enables comparison by industry, body part, nature and cause of injury, class code and region for claims (both filed claims and accepted claims) with dates of injury from 1/1/2020 to 6/30/2020.
The tool also allows users to compare actual claim counts for the same time period in 2019 to current and projected counts for 2020.
Claim counts, dear readers, is WAAAAAY more important than the rather minor financial impact COVID claims have had on workers' comp. As I've reported previously, work comp COVID claims to date are not expensive; despite the prognostications of others, it is unlikely indeed COVID's costs will have any material impact on work comp financials.
What WILL have an impact – and a very positive one – is the massive drop in total claim counts we've seen so far this year.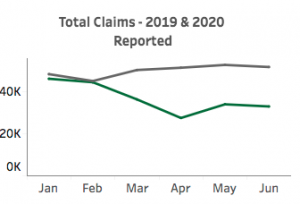 grey – 2019; green – 2020
Yeah, I know, this is California-specific, and only for half a year, and not fully developed, and all that stuff. I also know a 36% drop in total claim counts is the biggest thing to hit the workers' comp industry in…forever. 
What does this mean to you?
Everything.