President Trump has tested positive for the coronavirus; we'll divert from our usual focus on healthcare matters to highlight what we know now, and potential implications.
It is important to understand that most people with coronavirus have no symptoms or  relatively mild cases. Statistics favor a positive outcome for the President.
Infection source
We do not know how the President become infected. We do know that one of his closest advisers, Hope Hicks, tested positive. Reports indicate Hicks has multiple daily encounters with the President, traveled with him on Air Force One, and accompanied him on his latest trips.
The President's health
President Trump's public disclosure of his health indicates he is generally healthy, a positive sign.
However, his age puts him at elevated risk.
According to his personal physician, the President is obese. As an obese 74 year old, President Trump is at higher risk of severe illness. From the CDC:

Obesity is linked to impaired immune function.
Obesity decreases lung capacity and reserve and can make ventilation more difficult.

Ronny Jackson MD, at the time the President's personal physician, reported data that indicate the President had a build-up of plaque in his coronary arteries and higher-than-safe levels of blood fats (lipids). These correlate with a diagnosis of heart disease, which would increase the risk of an adverse outcome.
Implications
CDC data indicates that one out of ten people in their 70's with positive diagnoses of COVID19 died. The report did not separate data by sex; it is likely men are at higher risk of death. (note there are no credible reports that Trump has COVID19 – he has tested positive for the coronavirus which may lead to COVID19.)
The same study indicated almost one out of three COVID19 patients 70-79 with an underlying medical condition died; note that obesity was not specifically identified as a medical condition.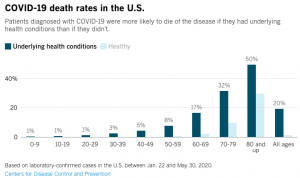 Near-term implications
First, the President will suspend his campaign schedule during a two-week quarantine period. Events will be canceled for the time being as his campaign awaits developments.
If his health is severely impaired, his powers as President can be delegated to the Vice President under the 25th Amendment to the Constitution until such time as he is able to resume those duties.
Worst-case implications
If a sitting President dies at any time during his/her term, the Vice President assumes the Presidency.
If a major political party's candidate dies after being nominated by her/his party, and during the election campaign, that candidate's political party would nominate a replacement candidate. The process differs by party; for the GOP, the Republican National Committee would oversee the process which gives each state the same number of votes it has at the party convention.
[Note the Democratic Party's process is generally similar]
It is unclear what happens if the Party's candidate is medically incapacitated at the time of the election.
There is no Constitutional provision to delay a Presidential election in the event of a candidate's illness, incapacity, or death after nomination and before the election.
For more information on the latest details on COVID19 treatment, click here.
What to watch for
There will be a lot of political maneuvering and posturing , most of it just noise.
Rely on credible news sources – the major broadcast networks, NPR, and major newspapers – and ignore nonsense from YouTube, twitter, and the like.
And there are already lots of ridiculous conspiracy theories – ignore them too.