Here in central New Hampshire the snow is piling up..so far we have somewhere around 2 1/2 feet with more to come.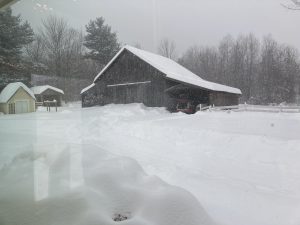 The weather reminded me of a vendor assessment project I did a while back for a workers' comp client concerned with ever-increasing medical management fees. The program featured a medical management program integrated with TPA services, with the marketing pitch touting the efficiencies gained from one-stop shopping, electronic interfaces, close coordination and the like.
I won't get into the specifics or identify the vendor – for reasons that will become obvious in the following.
Here's some of what we learned.
Medical management fees – bill review, case management, UR, PPO, "enhanced" bill review and the like accounted for more than 13% of medical costs – a percentage way over industry standards.
Fee schedule reductions were way lower than those delivered by other BR vendors, but "savings" from "enhanced BR" solutions such as nurse review, bill negotiation and the like were really really outstanding. Notably the vendor didn't get paid extra for FS reductions, but made 26% of savings for "enhanced BR" reductions. 
The TPA/vendor LOVED assigning case managers to claims; pretty much every lost time claim had a nurse engaged, and more than a handful of med onlies. A deep dive revealed that the CMs were doing a lot of what claim adjuster was supposed to do – discussing and documenting return to work discussions, talking with the patient and providers, even handling tasks which seemed more like claim intake and investigation. Of course this freed up the adjuster to do other stuff, and increased revenues for the vendor because the claim fees were a flat rate, but CMs were billed hourly… 
Nickel-and-diming was rampant; extra charges for worksite posters and provider directories, fees for accessing the claims portal, charges for processing duplicate bills, billing for windshield time for field case managers, % of savings for their PBM program plus add on fees for pharmacist reviews and drug alerts, mandatory annual increases due to "inflation"…pretty much any way the vendor could tack on a service charge, they did.
TPA claim fees were very competitive, but med management fees were way out of whack – PPO and "enhance BR" fees were north of 26% of savings, CM fees above $120 an hour (and no this wasn't a California/Alaska/Hawaii client)
While the pitch made sense, once you dug just a bit deeper it became obvious it was a complete snow job; the vendor's complete and total focus was on driving revenues, at the expense of a trusting client.
What does this mean for you?
Brush that snow away so you can really see what's underneath.