Two members of the Perdue family, the folks who made tens of billions of dollars addicting patients to dangerous drugs, testified before Congress yesterday.  Both averred there was nothing they could have done to avoid/prevent the damage their company did.
Yesterday the CDC reported 81,230 drug overdose deaths occurred in the United States in the 12-months ending in May 2020.
Quoting the CDC:
This represents a worsening of the drug overdose epidemic in the United States and is the largest number of drug overdoses for a 12-month period ever recorded.
The Perdue family's complicity in this national disaster is obvious and damning to everyone but the billionaires who've parked more than $10 billion of their profits from drug dealing offshore, safe from recovery efforts by American law enforcement and Perdue's victims.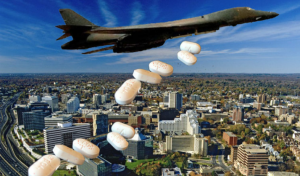 This from Kathe Perdue:
"I have tried to figure out, was there anything that I could have done differently? Knowing what I knew then — not what I know now?" said Dr. Sackler, who served on the board from 1990 to 2018. "There's nothing that I can find that I would have done differently based on what I believed and understood then."
Perdue on the Board through 2018, many years after Perdue Pharma's criminal sales practices had been prosecuted, fines paid, settlements authorized. She was on the Board in 2007 when it authorized a $600 million settlement to resolve just one set of charges.
Oh, that represented 1/50th of the family's net worth.
Two conclusions are possible – and only two.
Either Ms Perdue really couldn't think of anything she could have "done differently" to stop her company's ongoing, continuous and highly effective efforts to addict people, or she's a bald-faced liar.
In the first instance, she's a psychopath.
In the second, she lied to Congress.
What does this mean for you?
When are you going to sue these bastards for what they've done to your customers, employees, members, and organization?
Thanks to Steve Feinberg MD for the heads up on the CDC data.