Optum's work comp folks inform us that prices for some brand name drugs went up in January. The list includes medications that often appear on Medicare Set-aside cost projections – including some new-to-the-market meds that are pretty expensive.
As in $34.50 per pill expensive for Vivlodex, indicated for osteoarthritis and pain and almost 50 bucks per tablet for Vimovo, also for arthritis and pain.  As in a 5% increase for OxyContin, 10% jump for Nucynta, and 5% for a brand form of Opioid Use Disorder medication suboxone.
Two takeaways.
First, at least two of these meds should/must be replaced with generics.
VivlodexTM is a brand version of meloxicam, which is available in a generic form at a tiny fraction of the cost. drugs.com indicates pricing is about 13 cents per tablet…
meloxicam oral tablet 15 mg is around $13 for a supply of 100 tablets
Similarly, there are also generic substitutes for VimovoTM -which is simply a combination of naproxen (aka AleveTM) and omeprazole (aka PrilosecTM). The "substitute" would be to buy these two over-the-counter medications…
[Embarrassing disclosure time – I consulted for Vimovo's manufacturer for a while till I figured out what the drug really was. Ouch. Lesson learned.]
Second, the price increases noted in Optum's post do NOT reflect rebates. These can amount to 1/3 or more of a brand drug's retail price, dollars that flow to the PBM and other entities on the supply chain.  As we've learned, all the news about drug price increases must be considered in the context of rebates.
courtesy Adam Fein PhD's Drug Channels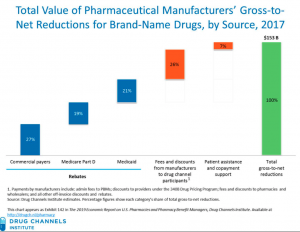 The left most column reflects rebates etc paid to commercial insurers/PBMs etc
What does this mean for you?
Ask about rebates. There's beaucoup bucks there.