You are as done with COVID as I am.
COVID is not done with us.
Here in New York's Finger Lakes everything is open; had a great family night out yesterday, no masks required for those of us fully vaccinated, hiring signs are all over, and the joy that is upstate NY in summer is in full swing.
While we are blissfully enjoying life, the Delta Variant is:
That's the bad really bad news.
The good news is vaccinations – especially the ones based on mRNA (e.g. Pfizer) are still "spectacularly effective" against the Delta variant. 
As in 96% effective in preventing hospitalizations.
However, that's after both doses; a single dose is just 33% effective at preventing symptomatic illness.
Here's the thing. The more of us that get infected, the greater the chance that the damn virus morphs into a deadlier, more transmissible, and thus even bigger problem. So far the vaccines we have are working.
But – and it's a damn big "but", far too few of us are vaccinated. That's particularly true of southern states, where a combination of misinformation,  awful treatment of minorities by some governmental entities and segments of the medical community (the Tuskegee experiment being a prime example) and resulting mistrust, and difficulty with the J&J vaccine have combined to drastically slow vaccination rates.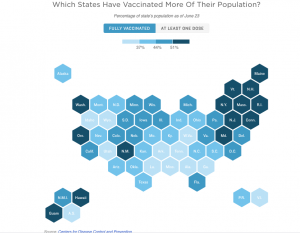 click here for detailed state-specific data
Here's a great graphic detailing state progress towards full vaccination…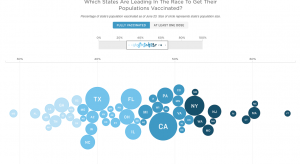 All this is to say that the fewer vaccinated people there are, the more likely COVID will mutate into something even worse.
What does this mean for you?
Get vaccinated.
Note – if you want to debate or disagree, cite credible sources for your statements. Period.