For my friends out there who remain unconvinced COVID vaccinations are a good idea, please think again.
Breakthrough infections – fully vaccinated people contracting COVID – accounted for only about 1 in every 700 hospitalizations.
Put another way, people who haven't been vaccinated accounted for 699 out of 700 hospitalizations.
A similar dichotomy holds for COVID-related deaths; fully-vaccinated people account for less than one out of a hundred COVID-related fatalities.
Not surprisingly states with lower vaccination rates are seeing higher infection, hospitalization and death rates.
Great source for tracking state-specific data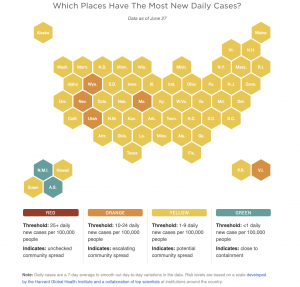 Arkansas, Oklahoma, and Missouri are among those states likely to experience increases in COVID infections, hospitalizations, and deaths.
There is another factor in play here – unvaccinated people are far more likely to get infected, become a COVID host, and pass their germs on to others. So not only do they risk their own health, they also endanger many more people.
And – and it's a BIG and – the more people infected, the more likely COVID will mutate and become more transmissible and deadlier. We've already seen this with the Delta variant; transmission rates are increasing rapidly especially in the South.
What does this mean for you?
Please – get vaccinated.