if you think COVID is overblown, just the flu, not going to hurt you, came from a Chinese lab, or part of some bizarre plot by the New World Order.
it doesn't matter if you haven't been vaccinated because you haven't had the time, don't believe it works, think it contains a tracking chip, don't trust science, think it needs more study, or are just lazy.
What matters is the unvaccinated are dangerous as hell. The more of us who get infected, the greater the chance COVID morphs again into something far deadlier and far more infectious.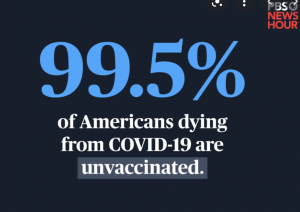 Let's talk freedom for a second. The old argument about where our freedom of speech stops is "you can't yell "fire!" in a crowded theater.
Well, you don't have the "right" to set a fire in a crowded theater. That is exactly what the unvaccinated are doing.
Even if COVID doesn't get more dangerous, it is crystal clear the unvaccinated are why we may be headed back to lockdowns, mandatory masking and physical distancing, remote "learning" and all the awfulness that we are just now starting to leave behind us.
Not getting vaccinated is a "personal choice" to:
expose yourself and your loved ones to COVID,
tell your employer you don't want to work,
tell first responders and healthcare workers you don't care about them, and
make the rest of us pay for your healthcare if/when you get sick.
Those of us who are vaccinated can also make a "personal choice";
you don't get to work around us,
we won't pay for your healthcare, and
you will be held liable for infecting others.
What does this mean for you?
Get vaccinated.