UnitedHealth Group projects its 2022 revenues will be around $320 billion – that's equivalent to 7% of total US healthcare spend. (around 80% of UHG revenues flow through as medical expenses.)
UHG is the largest of the health insurers, capturing 14.4% of total premiums – or one of every 7 premium dollars. (thanks to Jeff Kadison for the math correction)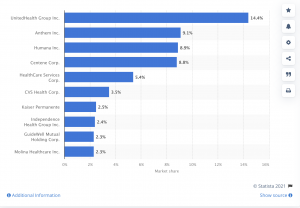 The four largest health insurers capture 4 of every 10 premium dollars.
It also made the most profits through the third quarter of 2021 (most of CVS' revenue is not from its health insurance business.)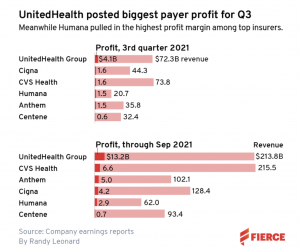 For readers in the workers' comp business, UHG's projected 2022 medical spend  is about 8 times larger than total US workers' comp medical spend.