on WCRI's 38th Annual Issues & Research Conference, March 16-17, 2022. Mid-March is a great time to be in Boston!  Then again, pretty much anytime is.
Register here.
on NCCI's latest update on claim frequency and severity – spoiler alert, frequency is still declining, although it's hard to unpack the influence of COVID from structural drivers. Hat tip to Carolyn Wise and Kevin Fernes for their helpful research and cogent explanation of the data.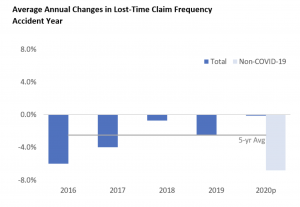 More surprisingly, severity – which is workcomp-ese for costliness – declined last year – for non-COVID claims.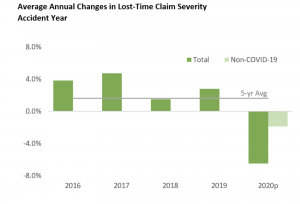 Also notable – and consistent with what I predicted last year – COVID claims are way less costly – as in two-thirds less costly – than non-COVID claims (this isn't about chest-pounding, rather pointing out that this was predictable – but few in the WC world have the health care/medical system insights to do so)
Also worthy of your attention, Chris Brigham MD is hosting a discussion of Post-Acute COVID via Webinar – registration is here and is complimentary.
Finally, in yet another example of the consequences of stupid, a physician who testified before Congress that Ivermectin would prevent COVID…wait for it…got COVID. As concerning, there have been 2021 1,810 cases of ivermectin poisoning in the U.S. in the first 10 months of this year, compared with 499 for the same period in 2019.
What does this mean for you?
Understanding healthcare would be really helpful for workers' comp execs.