The impact of global warming on climate change is happening faster than anyone thought.
And that will lead to more occupational injuries and illnesses.
Today's early heat wave is smothering much of the country in brutally hot and oppressively humid conditions; as the heat and humidity shifts west and north, the southwest is getting a bit of a reprieve while the eastern US is blanketed with heat warnings.
It's not just the heat – it is the unexpected/unprecedented storms, droughts, high winds, and resultant floods and fires that are becoming all too common.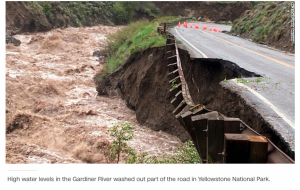 credit CNN
Yellowstone is closed, and some roads are impassable  – and will remain impassable for some time due to flood damage. The Yellowstone River reached an all-time high Monday – more than 2 feet higher than the previous record. This in an area that's been parched in a drought.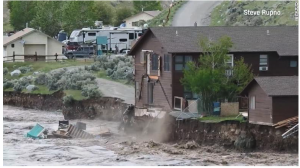 flood damage in Gardiner Montana, credit CNN
Hundreds of thousands of Ohioans and West Virginians are without power.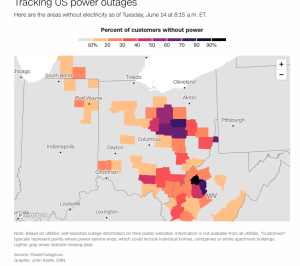 Winds gusting north of 80 mph hit Chicago yesterday – exceeded by a 98 mph guest in Fort Wayne Indiana.
Six months ago I wrote this:
the biggest long-term concern for workers' comp is global warming...yet this is getting zero attention.
There's going to be an inevitable increase in issues related to heat, flooding, fires, drought, tornados and hurricanes. This is getting more real every day yet remains all-but-ignored by pundits, policy-makers  and rate-makers.  We can expect more heat-related claims. Hurricanes, fires, and tornados will increase in number and severity; affecting logistics, labor, construction, and claims. The research is clear.
It didn't have to be this way, but thanks to big oil and its ability to manipulate people and pay off politicians, we failed to take action.
And let's not forget people were willing to be manipulated.
Now, we are paying the piper. More specifically, workers in public safety, manufacturing, healthcare, construction, logistics, agriculture, forestry, mining, transportation and other sectors will be the ones suffering from the lack of foresight and inability/unwillingness to believe science exhibited by far too many of us.
As of last summer, only three states had adopted standards for workplace heat exposure – kudos to California, Minnesota and Washington. The Feds have yet to set federal requirements.
Jeff Rush of California Joint Powers Insurance Authority and I will be discussing the impact of global warming on workers' comp at National Comp 2022; thanks to Michelle Kerr and her colleagues for inviting us to speak.
What does this mean for you?
Denying the reality of human-caused climate change will have devastating effects on all of us – with worse consequences for our kids and grandkids.
States and the Feds will enact heat/humidity exposure standards, which will drive big changes in risk management.