The most popular formula for calculating the "value" of healthcare is pretty simple…

If you want to get a bit deeper into details, there's this…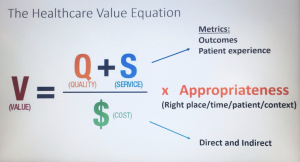 It's about the "quality" of the medical procedure (was it done right? was the patient re-admitted? was there a surgical error or infection), perhaps the appropriateness of that procedure, and the "patient experience" – measured…somehow.
Pretty much every formula, discussion, or description of the healthcare value equation is focused on "outcomes" defined as the result of a surgery or treatment (did the patient get better?) or avoidance of sickness or injury (did the patient stay "healthy").
None – as in none – focus on what's really important to you and me –
Did the healthcare we received maintain/improve our ability to function – to raise our kids, work, exercise, function in society, do things we like to/have to do.
Functionality is the only "value" metric that matters, yet pretty much no one in healthcare and no healthcare organization – except in workers' comp – talks about functionality, measures their results based on functionality, reports member functionality, studies it or seeks to improve overall member functionality as a core goal (except for a few unique healthplans).
Further, employers, who pay hundreds of billions of dollars on healthcare insurance premiums don't even think about the impact of that healthcare on employee functionality/productivity.
Why?
Procurement, CFOs, finance departments and management are constantly challenged to show a return on investment on any project, hire, new initiative, acquisition or investment.
But never when they are buying healthcare – which, after payroll, is the biggest single part of the budget for most service companies and a major cost for every type of employer – public, private, not-for-profit.
Nope, it's the thickness of the provider directory, whether or not some health system is in that directory, perhaps some "quality" rating, plus the biggie – cost.
What does this mean for you?
We are buying healthcare all wrong.