If your health plan could show it:
reduced the days kids stayed home from school due to illness;
helped members with mental health conditions maintain a high level of functionality and engagement;
reduced workdays lost due to illness;
sped recovery from illness and injury; and
helped amateur athletes avoid injury and recover quickly;
would that be important?
Heck yes.
So…why don't healthplans do that?
It's doable – if they stopped focusing on and worrying so much about star ratings and patient experience and net promoter scores – which research shows consumers don't really pay attention to or care about –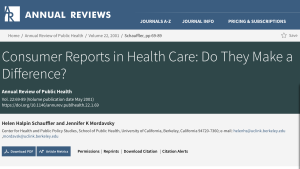 (conclusion – no.)
and focused on what consumers really care about – staying healthy and able to do the things we want to do:
play with our kids and grandkids
do chores around the home
do our sports
shovel our walks, rake leaves, coach youth sports
lift stuff and move it around
got to the bathroom without help
dress and undress without help
go for a walk
oh, and work.
What's even more puzzling is why employers don't demand health plans complete on the basis of delivering fully functional, engaged workers.
What does this mean for you?
The most important component of any organization is its workers.
No employers hold their health plans accountable for ensuring those workers can actually, you know, work.
And that is why our healthcare system is so dysfunctional, ineffective, and expensive.