Illegal immigrants are NOT smuggling in fentanyl across the Southern border.
Americans are.
Yet half Americans  – and 6 out of ten Republicans – think it's those damn immigrants.
I've been yelling about opioids of all types for almost two decades…and avoiding it for the last year or so because I'm burnt out on the topic. Yet here it is again, with demagoguing politicians and "news" outlets using the fentanyl crisis to scare the crap out of people by blaming brown folks for a crisis entirely of our own making.
News flash – WE Americans are consuming fentanyl…if we weren't, there would be no crisis, no awful death toll, no broken families and destroyed communities.
And we Americans are the ones importing fentanyl.
From a Former Border Patrol sector chief:
Virtually none is smuggled by migrants themselves, says Victor Manjarrez, Jr., a former Border Patrol sector chief who's now a professor at the University of Texas at El Paso.
"The probability that they're going to carry some kind of illicit narcotic is probably close to zero," Manjarrez said. "The vast majority of that fentanyl is going through a port of entry." [emphasis added]
This is clearly a fact-free campaign to demonize immigrants, to scare us into voting for politicians that talk about building walls and banning immigration.
What does this have to do with healthcare?
I'm sooooo glad you asked.
As a nation – and individuals – we are getting older fast. Older = more need for healthcare = need for more healthcare workers.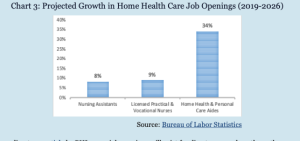 Where are those workers going to come from? Are your kids signing up to be home health aides? Your neighbors' kids?
Doubtful.
There is a crisis  – but is sure as hell isn't immigrants bringing in fentanyl.
No, the crisis is in healthcare staffing, so blocking immigration is worsening the crisis.
By far the most projected job openings is in direct healthcare workers in the decade ending in 2026 – 2 1/2 years from now – we'll need 1.4 million direct health care workers – plus over 400,000 nurses.
States most affected by the healthcare worker crisis include Texas, Florida, Nebraska, Alabama, Wyoming and Maine.
Where are those workers going to come from – especially home health care workers? Today, almost four out of ten home heath aides are immigrants; that HAS to increase if we are going to have enough workers to care for us and our parents and grandparents.
Meanwhile Canada is attracting immigrants by giving health care workers a path to citizenship.
What does this mean for you?
If you want to change your own bed pan, vote to block immigration. 
PS…I dumped Twitter and moved to threads – follow me there at joe_paduda