One Call's got a cash injection and reduced its debt burden (so the company doesn't spend most/all its earnings on interest payments).
Congratulations to the debt holders for coming up with a very creative solution – and for doing a masterful job of cat herding.  KKR, GSO, and their advisers somehow convinced all the debt holders to agree to losing millions of their investment – and got some debt holders to dump hundreds of millions more into One Call in return for ownership stakes.
Darn impressive work.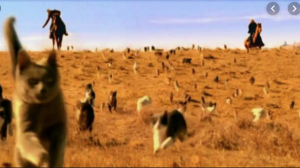 So, what's next?
Well, I tried to find out from One Call…I sent One Call several questions early yesterday; Jessica Taft, OneCall's VP of Marketing and Branding,  was kind enough to send a statement earlier today.  I'd note the response was not very "responsive" as it didn't fully address my questions; I've pasted the communication in at the end of this post verbatim so you can judge for yourself.
Management
In response to my question about management changes, Taft said there are "no planned changes to the management team." Ms Taft may not have full visibility into the new owners' plans – and I don't either. Now that Apax is no longer involved, the new owners will undoubtedly install their own Board; I expect major changes to, if not wholesale replacement of ,the Board of Directors.
It would be surprising if the new Board didn't install new folks in the C-Suite.  (As I mentioned in an earlier post, execs were dealt a pretty poor hand to start with, so it's unfair to blame the entire mess on them.)
Business lines
I asked:
What business lines will OCCM focus on going forward, and which lines will be de-emphasized? For example, there have been recent efforts to sell the hearing business; will those efforts continue or be halted?
OCCM responded:
One Call will continue to focus on delivering products and services to enable our customers to get injured workers the care they need when they need it…Finally, there are no plans to sell our hearing business…
I don't expect One Call to sell any of its businesses at this juncture, although the new owners may look to do so after things settle down. It may be that the parts are greater than the entire operation; time will tell.
Provider reimbursement
I asked;
Management acknowledged extending payments to some providers out an additional 15 days in a recent call. When will OCCM reduce days outstanding for provider payables, or is that not being contemplated at this point?
OCCM responded:
Our provider network is one of our most valuable assets, and we intend to continue to enhance the value we deliver to our provider partners and continue to pay them timely.
I would expect One Call to work on strengthening relationships with providers, but don't know what to make of Taft's response.
Polaris
I asked a question about future investments in Polaris; the response was marketing-speak.
My view
With somewhere north of $300 million in the bank (if the entire equity payment went to the company's coffers, and not to any other entities) and the annual debt load reduced from around $150 million to $60 million, One Call is in waaaaaay better shape than it was before the infusion.  
That's good news indeed for the company's workers and customers – and for the industry at large.  More competition for payer business is better than less.
The next steps are critical.  The industry wants to see a highly credible exec installed, one with deep experience in workers' comp and a very strong brand. The company would also benefit greatly from more IT strength; it's reliance on Polaris(r) for much of the customer-facing functions makes that platform essential to One Call's future.
Happier and more connected workers would also be a big plus; sharing equity or otherwise rewarding workers who've stuck by the company during a very tough time is relatively inexpensive and would get more folks to buy in to the future.