First – reminder that every April 1 I do my annual April Fool's post. It usually catches a few folks…you've been warned!
Now, a few things of note that crossed my virtual desk.
Chloroquine as a treatment for COVID-19
You may have seen President Trump talking about a malaria medication…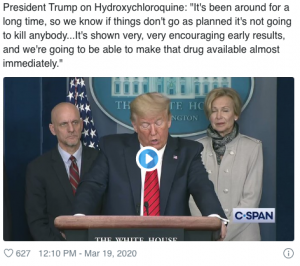 Two news items hit this morning, one noting that a patient just died after taking a version of the chemical.
A very small study found outcomes for patients that took chloroquine were not different than outcomes for patients that received a placebo. Out of  30 patients, 15 patients got the malaria drug and 13 tested negative for the coronavirus after a week of treatment. 15 patients didn't get hydroxychloroquine; 14 tested negative for the virus.
Last week the drug was touted extensively on Fox and the Glenn Beck Show, with that "science" based on an unpublished paper describing what happened to a handful of patients treated with the medication.
Read the link if you want to understand why the "science" was crap and the "conclusions" total bullshit.
Takeaway – this drug can be very dangerous, is far from proven effective, and current studies are too small and have other limitations that make it impossible to draw any firm conclusions regarding its efficacy and dangers.
US Infection trend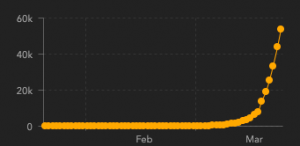 As of 9:35 am eastern March 25, there are 55,238 confirmed cases in the US and 802 COVID-19 related deaths. Caveat – the number of cases is almost certainly significantly higher (not enough tests available) as is the actual number of deaths.
Takeaway – we are nowhere near the peak of this pandemic…here in New York we have over 25,000 confirmed cases…3 in our town of 4,800 people.
Conferences
are pretty much not going to happen.  NCCI's annual confab will go virtual; more details on the free web-based event here. The date is May 12, 2020, and it kicks off at 1 pm ET.
Work-at-Home
Briotix Health has developed a free app to help we work-at-home folks prevent injuries and other nasty stuff. Info is here.
A link to the Virtual Office is here.