The healthcare system is in perilous shape.
The fourth wave of COVID is pushing many workers past exhaustion, anger and frustration to despair.  If you are one of the anti-vaxxer, anti-mask, "personal freedom" people, this is on you.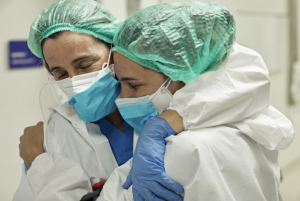 "You feel expendable. You can't help thinking about how this country sent us to the front lines with none of the equipment needed for the battle,"
"You look at staffing, preparedness, what the priorities were for many hospitals during the crisis, and it's clear the industry is driven by profits rather than well-being of patients or health workers,"
"As psychiatrists, I think we were all seeing the warning signs. You had doctors suddenly writing their wills, talking about how they felt abandoned to die, how the only choice they faced was being called a hero or coward,"
"It's hard to let go of the anti-mask thing…The worst thing is the panic you see on dying people's faces when they realize this could be it…"
"There have been many healthcare workers who have not only thrown in the towel, but have said they are never coming back,"
Over half a million healthcare workers quit their jobs in August, and more have left since then. Three of every ten healthcare workers are considering quitting.
Traveling nurses in many areas are getting north of $100 an hour, while their full-time colleagues are making less than half of that. Yet traveling nurse staffing agencies have more than 40,000 unfilled vacancies.
Oh, and the average nurse is over 50 years old, and that has not been an easy 25 years with often-brutal shift hours, lots of standing, lifting and emotional stress. Combine wage disparities with the risk of bringing COVID home to family and children with the pandemic of the unvaccinated and we get…
a disaster in the making.  The toll is not only personal, it is national.
Hospitals in several states are again postponing all but emergency surgeries.
Some areas are so overwhelmed patients requiring higher-level care are being shipped out of state.
What's truly awful about this is so much of it was preventable.
What's even worse is the continued refusal by many to get vaccinated and wear masks. These people are destroying our healthcare system and the people who take care of us.
This is personal for me; family members are front-line healthcare workers and I see the toll this is taking on them every day.
What does this mean for you?
Get vaccinated. Wear a mask. Take responsibility.