OK folks, deep breath here. Let's take a minute and discuss what's really going on with the ACA.
ACA – or the more-commonly-used-but-nonetheless-inaccurate-title Obamacare ≠ the Exchanges. I don't know why pundits, pols, and regular people don't understand this.
Let's remember that enrollment in the exchanges and individual plans amounts to about 6% of all insureds in the United States.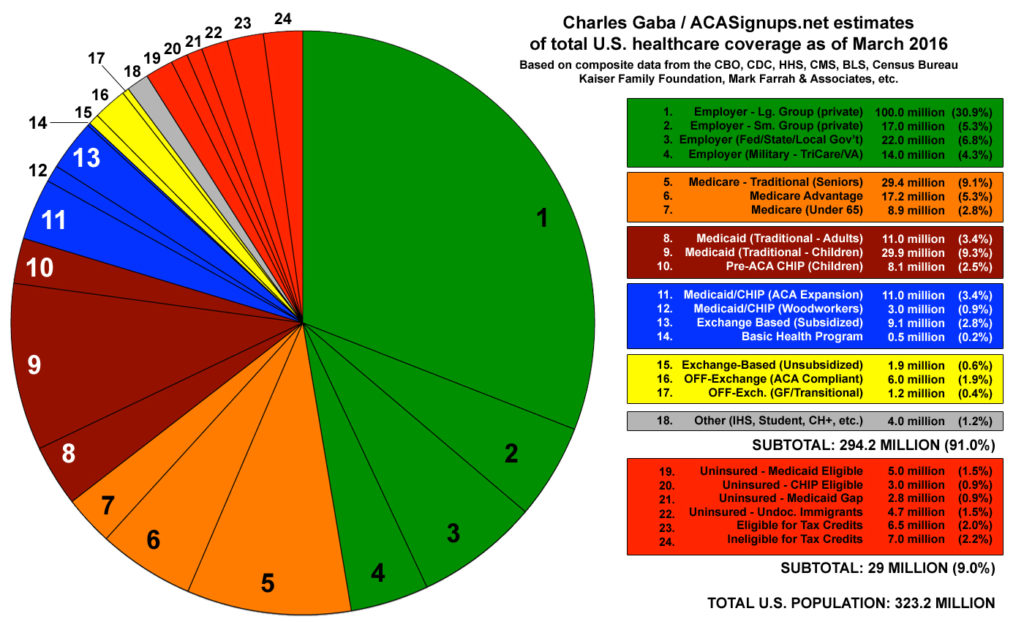 Six percent.
Second, remember that the ACA includes a lot more than just the exchanges.
Elimination of pre-existing condition clause, guaranteed issue, coverage of dependents to age 26, Medicaid expansion, changes in Medicare reimbursement all have much more impact on the overall industry and population than the exchanges.
It's clear that rates in the exchanges are going up a lot. This is because there are not enough young people and healthy people buying coverage on the individual market to offset the expense of us older folks.  And, it's because the big commercial plans aren't very good at individual coverage.
As the penalties for failure to obtain coverage increase, we can expect more people to enroll in health insurance. But for now, rates are going up significantly.
That said, I can say from personal experience that our rates are going up less than one dollar for a platinum plan in upstate New York. We are enrolled in a very narrow network with no out of network coverage.
The big commercial plans, United healthcare, Aetna, Wellpoint are all experiencing significant losses in the exchanges. However the plans that are more locally focused and have more expertise in Medicaid and other individual markets are doing well.
Therein lies a lesson. The big commercial plans are very skilled and very experienced in dealing with employer plans. However their expertise is not in the individual market which is why they are getting crushed.
Let's not forget the ACA is based on private insurers competing. The competitive market is working. As the plans that can't compete are exiting Exchange markets others are earning more business. This will, over the long term, help control cost and deliver better care to individuals on the exchanges. And, it will make these individual market winners better able to compete for employer business as their cost of care is going to be lower.
Finally, unlike most major federal legislation, there has been no effort on the part of the opposing party to fix the problems with the original legislation.
Hopefully this will be remedied under a new administration.
What does this mean for you?
Progress is painful. But reforming our health care system is absolutely necessary.