Why the President and Congressional Republicans are still trying to do healthcare legislation is truly a puzzle. Unhappy with their initial effort to completely blow up the insurance markets (and their political future), they've re-engaged in a pointless effort that is destined to fail – and wound themselves in the process.
Pointless because every concession to win votes from the Freedom Caucus guys costs votes from those slightly more moderate.  So, it's a zero-sum game – win an arch-conservative's support, lose a less-conservative vote.
perhaps they're thinking the initial AHCA no-vote debacle wasn't much of a concern…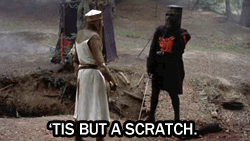 To be fair, in the disastrous AHCA non-vote they ONLY lost one of their arms.  This time they're looking to lose more appendages.  This is one of those "if you don't laugh you'll cry" moments, because ACA does need significant improvement, but – at least for now – improvements are being ignored as politics prevail.
There are a lot of reasons this is political suicide…
The President and Republican candidates committed to keeping coverage for pre-existing conditions.  The plan being discussed today would gut this entirely, leaving over a quarter of us without coverage for pre-ex.  Ignore claims to the contrary; the combination of changes to what's covered (essential health benefits) and removal of restrictions on premiums would mean anyone in the individual or small group markets would be subject to medical underwriting (absent state regulations to the contrary).
A close friend and lifelong Republican (including experience working on Capitol Hill) emailed me this morning about this latest "reform the reform" effort using language that would peel the paint off a battleship.
Most Americans now believe the GOP "owns" health reform.  A just-published Gallup poll finds 61% of respondents said "any problems with the law moving forward are the responsibility of Trump and Republicans in Congress…"
Interestingly, ACA is now polling higher than ever, at 55% approval. That's up 13 points since the election…
I think the Freedom Caucus guys understand their ideological purity means millions of Americans will lose insurance coverage – and thus healthcare. 
And when they do, every mother, father, aunt, uncle, and grandparent will be incensed beyond measure that their wife/husband/child/grandchild won't get the care they need.
How that is a winning proposition escapes me, but good for the Freedom Caucus for standing up for what they believe in.
Of course, you need to have legs if you want to stand.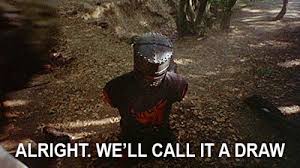 UPDATE – looks like the Freedom guys and their Republican opponents can't agree on what the White House said the new bill would include.  Either that or the WH folks told the two parties different things.