I'm going to announce something new tomorrow on the personal front; stay tuned for details…
Until then, here's what I missed while doing a lot of non-work-related stuff over the last couple of weeks.
Medrisk has launched telerehab, a new service designed to deliver therapy and related services direct to patients at their worksite or home.  I'm a big fan; used appropriately telerehab can help patients heal faster and ensure their home exercises are performed correctly and consistently. (MedRisk is a consulting client).
Medical leadership at Broadspire is changing hands. Dr Marcos Iglesias is taking over from the estimable Dr Jake Lazarovic; Dr Jake has been at Broadspire for as long as I can remember.  He's always been a pleasure to speak with; humble, highly observant, innovative and focused on always doing the right thing.  Dr Jake has long been one of the good people in our industry.
Dr Iglesias is a friend as well; Marcos has deep experience in occupational medicine as both a provider and insurance company clinical leader.
The first segment of Coventry's annual drug trend report is out; key takeaways are:
opioid utilization dropped 8.5% from 2015 – 2016
Average Morphine Equivalents per script decreased 5.6%
Total drug costs were down 5.8%
This is yet more evidence that PBMs and payers are doing really good work in cutting employers' costs and patient risks.  Note to regulators – this is happening across the country; please don't do things that will hamper PBMs' efforts to ensure patients get the right drugs.
An excellent review of where the dollars flow in pharma from HealthAffairs; note this is for ALL pharma, not just workers comp or health insurance. (chart from HealthAffairs)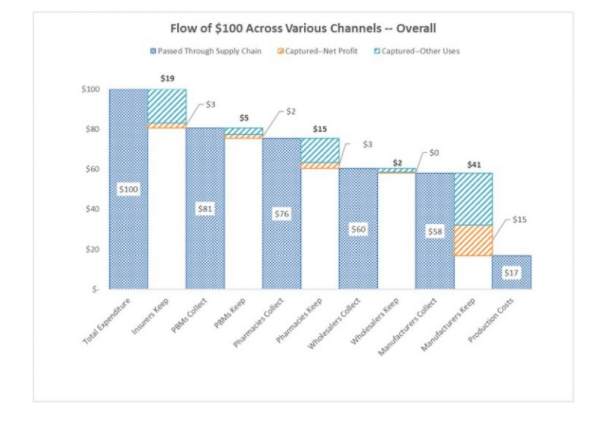 WCRI's released a series of reports on worker outcomes, following on the heels of an assessment of workers' comp income benefit adequacy.  WCRI has been focusing on outcomes and worker satisfaction for some time now; kudos to John Ruser and predecessor Rick Victor for this important work.
Finally, a really interesting piece from Harvard Business Review on how some very large employers are dumping health insurers and buying healthcare direct.  I will predict this is going to happen more frequently, and is a big risk for the big four healthplans.