Frank Pennachio is one of those people every industry really needs. He's blunt, outspoken, deeply insightful and completely unafraid to challenge established practices.
Especially when those practices need to be challenged. Thursday at NWCDC, Frank and Denise Algire discussed the ways employers pay for managed care services, and how those are often disconnected entirely from the quality of the care delivered to patients.
Frank's key question is this; do managed care programs improve care or create revenue for intermediaries?
My take is both. I'd also echo Frank's view that employers and brokers are just as culpable, if not more so, than claims payers and managed care companies. Employers' desire for simplistic fee arrangements and unwillingness or inability to dive deeper into fee arrangements force (or allow, depending on your perspective) TPAs to seek revenues elsewhere.
Transparency is what's missing; contracts between and among TPAs and employers don't allow employers to see the financial relationships between the TPA and managed care companies and providers and understand the motivations and incentives inherent in those relationships.
Fee arrangements are the key to the puzzle. TPAs charge employers a flat per claim fee or a loss conversion factor (losses x X.XX%) to cover the cost of handling claims, and that's pretty much the only thing the employer looks at or cares about.  Thus, allocated loss adjustment expenses are rarely addressed. What employers should be paying attention to are undisclosed side agreements and Allocated Loss Adjustment Expense bucket, where those fees end up charged to the file.
Frank showed a report from an employer that identified bill review fees of over $500,000 for some 4600 bills.  Of course, this was based on a fee structure using a percentage of savings below billed charges – an arrangement that like vampires just won't die.  Frank noted that many bill review companies are quite willing to charge a flat per-bill fee that includes networks, medical management, and other "savings". (I have a somewhat different perspective and believe the price per bill should be considerably higher, but fundamentally agree with Frank)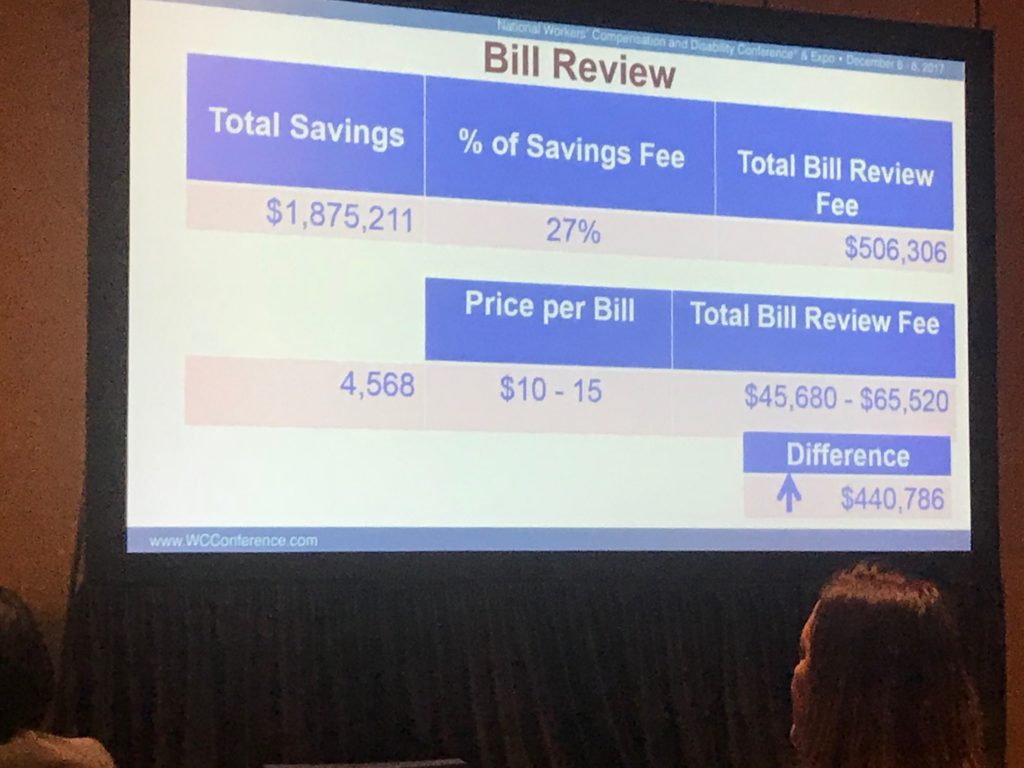 Part of me is stunned that we are still talking about this. This has been a subject of conversation many times over many years, and yet, here we are. And here we'll stay until and unless employers demand something different – and
Albertson's is one of the few large employers challenging this paradigm. Denise shared Albertsons' network contracting strategy, and of particular interest were the outcomes measures they use. Albertson's is quite willing to pay for better outcomes, and is diligent in tying outcomes to providers.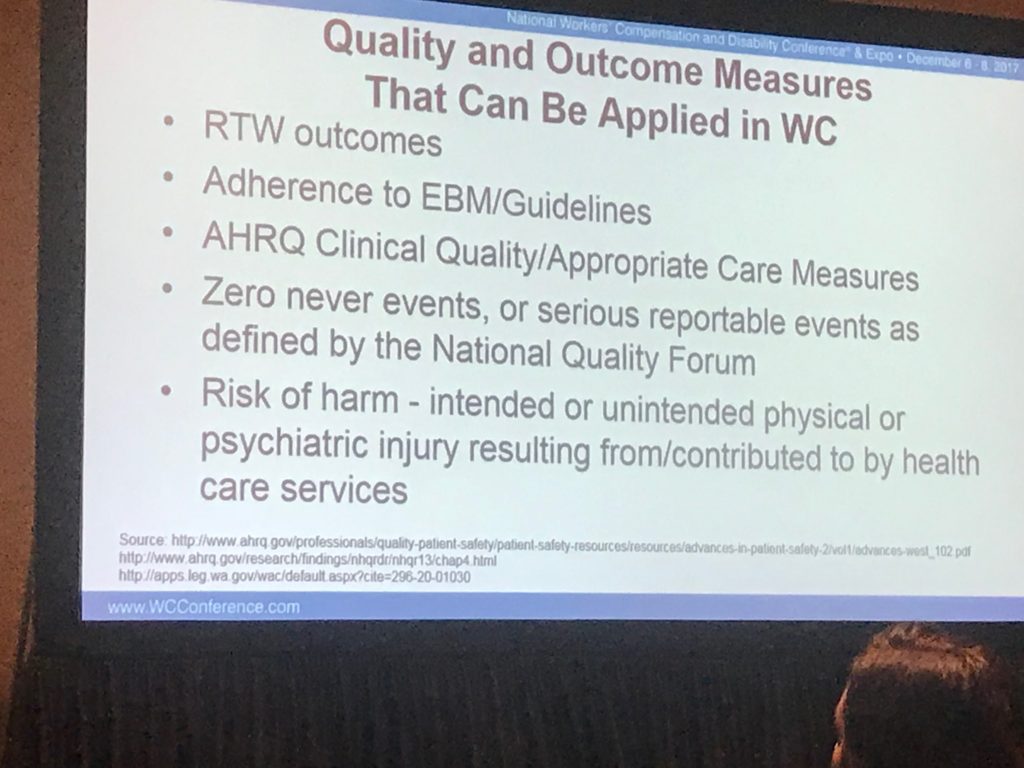 So what can you do?
Require full disclosure of all fees and side arrangements among and between your TPA and other parties.
Require reporting of all funds transfers
Realize you are going to have to pay higher per claim fees and/or higher unallocated loss adjustment expenses.
Require documentation and reporting on quality measures for all medical care including networks.
Be willing to pay more for better outcomes.