72,000 kids, moms, dads, brothers, sisters, best friends died last year from opioid overdoses.
Things are so bad that despite the ever-climbing death toll, news reports announcing the butcher's bill manage to sound somewhat positive, citing reductions in deaths in a handful of states. Meanwhile, between 2.1 and 4 million Americans suffer from Opioid Abuse Disorder. 
Fentanyl is now the biggest driver, accelerating a years-long upward trend begun by rampant over-prescribing of prescription opioids.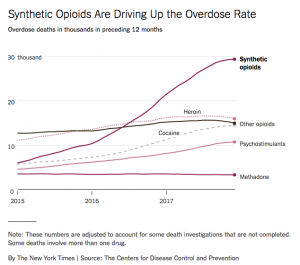 Researchers cite some reasons for optimism; death rates in the west remain pretty flat – likely because the heroin used there is hard to mix with fentanyl…however there's evidence that the black tar folks are figuring out how to do just that.
Meanwhile, Congress dithers; debating, pontificating, speechifying – and doing precious little.
To date, they've allocated a mere billion dollars to the biggest health crisis we've seen in decades.
Here in workers' comp land, CWCI just released an analysis of polypharmacy among work comp patients in California. (Polypharmcy refers to patients getting multiple drugs.)
Two key takeaways:
A combination of  opioids, muscle relaxants, and anti-inflammatories was the most common drug cocktail. (opioids combined with muscle relaxants are very, very dangerous)
Shockingly, fully one-fifth of patients prescribed 3 or more drugs have back strains without skeletal involvement. Another tenth have various other sprains.  Yup, strains and sprains account for about a third of these patients.
What does this mean for you?
The next time someone protests the UR/IMR process, ask them how many more patients have to die from opioids before they accept that doctors need oversight.