The economy is booming, wage growth is not.
Healthcare is the big reason workers aren't seeing higher wages – instead of spending their dollars on consumer goods, travel, cars and entertainment, workers are paying higher premiums and deductibles.
More than half of all workers have seen no increase in take home pay – ALL of their pay increases have gone to pay for higher health insurance premiums. And that's before deductibles, copays, and co-insurance.
(graphs from WaPo)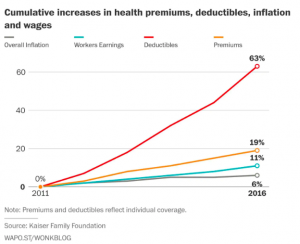 Deductibles are zooming ever higher because high deductibles mean lower premiums. Think of this as cost-shifting to the sick; healthy folks pay lower premiums but if/when you need health care, BOOM!
You first have to pay for that care yourself, before you start getting some help from your healthplan.
This is even more of an issue for folks who work for smaller employers (<200 workers), where the average deductible for individuals (not families) is $2,069.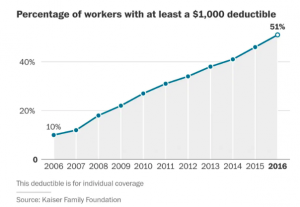 What does this mean for you?
You have less money in your paycheck because it is going to doctors, hospitals, pharma, device companies, and insurers.
And it's going to get worse.