Some ill-informed but perhaps well-intentioned people opine that all we need to do to solve the healthcare cost problem is unleash the free market.
Their thinking seems to be that creative approaches and Adam Smith's "invisible hand" will conquer the cost:quality:access conundrum.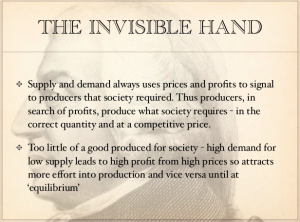 That is wrong for several reasons.
First, no for-profit insurance company wants to "insure" a person with cancer, depression, heart disease, asthma. Nor do they want to keep insuring someone who gets sick.
That would be irrational and stupid, a bad business decision indeed.
Second, there has been ample time and much experimentation with various types of "free market" solutions – yet here we are. Family insurance premiums are close to $20,000 and come with sky-high deductibles, medical trend continues to climb, and big insurers are not jumping into markets.
The free marketers will argue that allowing people to buy skinny healthplans like those pushed by the Trump Administration that don't cover stuff like drugs or pregnancy is the solution, that this keeps insurance costs down by eliminating coverage that's "not needed".
Funny thing about health insurance – no one can predict when they'll find out they have Hepatitis C, have a motorcycle accident, or have an aneurism.
There's another problem with the skinny plan idea – insurance requires the many subsidize the few. If healthy people aren't in the regular insurance pool, costs for sick folks will go up a lot – and inevitably lead to insurance market death spirals where only the wealthiest people can afford insurance.
To be fair, free marketers will assert that this is exactly the problem – a big part of healthcare costs (e.g. maintenance drugs, child health, care for chronic conditions) shouldn't be insured as they are not a classic "insurable risk"; somewhat unpredictable and random. That's true. But it begs the question – most Americans can't afford to pay for needed medical care without support from an insurer or third party.
Which leads us to the real problem – healthcare in this country is very much a profit driven business, and the companies and individuals making gazillions on healthcare are going to fight to the death to keep it that way.
As evidence, see California's attempt to limit the profits of the dialysis industry. The big dialysis companies spent $111 million dollars to prevent this – which makes perfect sense. However, one needs to understand that almost all dialysis treatment is paid for by you, the taxpayer. And a big chunk of Californians' tax dollars going to fatten up corporate profits – 3 billion dollars to be precise.
It's not just dialysis.
Investment firms are buying up dermatology practices, and, according to some reports, encouraging providers to order lots of expensive and potentially unnecessary treatments.
I'm not blaming private equity firms – they are doing what they are supposed to do, generate big returns for their investors. (to be fair, I know several PE firms that are NOT like this – they believe in doing well by doing good.)
And they are very, very good at it.
Finally, Invisible Hand fans will argue that dialysis is the issue – if we get government out of the mix, then the consumer will force down the price.
Ha.
What does this mean for you?
Can you afford dialysis? Is it right for those who can't afford it to die? Because that's what the invisible hand would do – push many of us right into a long and painful death.
Note – friend and colleague Tom Lynch must've been thinking the same thoughts I have been, as his post is a data-rich, elegant and thoughtful discussion of single payer, and government's role in healthcare.