In  less than 4 months, COVID19 has killed more of us than died in the Vietnam war's 11 years. Some have stated this is a "great success story."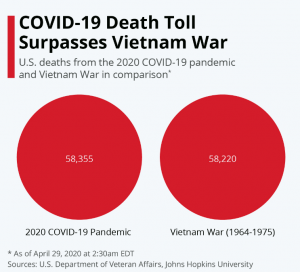 Healthcare providers may not see this as such a great success, as COVID is crushing healthcare financials.
Research suggests almost 13 million workers have lost their health insurance due to the repercussions of COVID19. Multiplying that by 2 approximates the total number of employees plus dependents that lost coverage – 26 million.
Many will seek Medicaid coverage, but eligibility varies widely (and wildly) by state. People who don't have coverage and contract the disease and need facility care should have their bills covered by the Feds – either at Medicare rates or via Medicaid.  Either way, reimbursement is likely half or less what their private insurer would have paid.
Anthem just informed us they expect the percentage of people covered by governmental healthcare plans to increase. The $100 billion+ health insurer saw its financial results for Q1 improve; my guess is the drop in elective procedures was a big factor.
All of this to say that COVID appears to be accelerating a trend towards a public option for health benefits – or perhaps a much bigger role for governmental programs in health insurance.
Hospital financials are getting hammered as elective procedures are way down, and many folks with all kinds of ailments are staying away for fear of coronavirus exposure. (chart from Kaufman Hall)

With receivables drying up to dust, facilities are going to redouble their efforts to collect every nickel they can from everyone they can.
Workers' comp payers – you are hereby warned.
Willis Towers Watson has been publishing their perspectives on all things COVID19, from the impact on the LGBTQ community to a helpful discussion of paying premiums when cash is tight.
An early piece focused on employers' considerations re workers' comp liability for COVID19 claims. One item in particular stuck out – large employers with excess coverage should read their current communicable disease coverage details very carefully.  Friend and colleague Karen Caterino was kind enough to paraphrase for me:
For large employers purchasing excess, a multi-claimant disease incident carries the possibility of creating catastrophic financial loss.  If the transmission of a covered communicable disease is a series of incidents versus a single accident, the difference in retained loss could be significant.  A majority of work comp deductible agreements include a provision stating that the deductible applies per employee for occupational disease.  Some insurers are likely to suggest the statute requires they follow the assumption that occupational disease, by its very nature, is a series of occurrences for multiple claimant losses.
This is especially important for supermarket chains, who by now should know that paid sick leave may be the most effective risk management tool to prevent employee and patron exposure. There are many stories like this one detailing how quick, thoughtful action kept food coming while drastically reducing employee exposure.
NCCI has a helpful compendium of states' COVID19-related legislative and regulatory initiatives along with COVID19 FAQs.
And yes, surgical masks are quite effective at reducing viral transmission; thanks to Glenn Pransky MD for tipping me off to this research.
Finally, this is a terrific summary of what we know and don't about how COVID19 affects the human body. It's long, very well-written, and perfect for a lunch-time read. Spoiler alert – a lot of treatment these days is based not on extensive research but on what docs think works based on prior experience and communication with other clinicians.
From the physician author:
In the absence of data from randomized, prospective trials, we search for answers on colleagues' Twitter accounts, in interviews with Chinese or Italian physicians, and in our patients' charts.
What does this mean for you?
Wear a mask, and physically isolate, because we can't take much more of this "success."