And that has big implications for private insurance and workers' comp.
An insightful piece by Milbank Fund President Chris Koller details the carnage (Chris and I serve on Commonwealth Care Alliance's Board of Directors).
Total healthcare spending in March was more than 5% lower than the same month in 2019.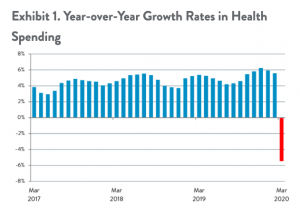 From Altarum's report:
This decline was led by the two largest spending categories: hospital spending, which showed an 8.7% decline, and spending on physician and clinical services, which declined by a huge 19.3%, year over year.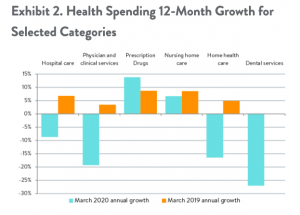 In late April, outpatient office visits were down more than 60%. Visit counts have rebounded in the last few weeks, but are still quite low – especially for surgical and orthopedic specialties.  (From the Commonwealth Foundation)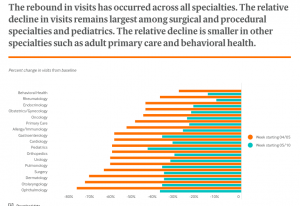 The financial impact on healthcare providers is devastating.  To date, big health systems have already lost about $400 million – each.
80% of New York doctors have lost more than half of their income, and providers in other states haven't fared much better. Not surprisingly the ones hardest hit are those that do procedures – especially surgery. While primary care docs and behavioral specialists have been able to switch some patient visits to tele-services, that isn't possible for proceduralists.
Implications.
Some practices will not survive. New practices, those without strong referral sources, and those with high debt are most at risk.
Provider consolidation will ramp up and the number of smaller practices will shrink as the big get bigger – and more powerful. Big practices and healthcare systems are getting more than their share of relief dollars, and are better equipped to make it through months of financial losses. They'll be snapping up physician practices for pennies on the dollar.
Near term, proceduralists are going to favor profitable payers as they open up. Expect provider billing and collection practices to get a lot more aggressive.
Workers' comp bill review systems, logic, and rules are woefully inadequate and payers using those systems will suffer the consequences.
Private insurers are significantly better off due to much more sophisticated systems…but over the longer term they can expect provider groups will push hard for increased reimbursement.
What does this mean for you?
Workers' comp payers and private insurers are making a lot of money these days. That will not last.
They would be well-advised to invest now in reimbursement systems, expertise, and tools.