Healthcare will be the most significant near-term impact of this election.
If Joe Biden wins and the Dems take the Senate, here's what we can expect.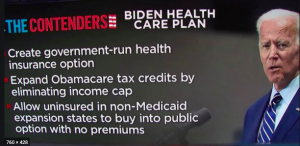 Biden's healthcare plan addresses the biggest problems with the ACA (known to some as Obamacare).
Individual health insurance plans are way too expensive.
About a third of all states didn't expand Medicaid
The big insurers have little competition.
Medicare – and Medicare recipients – are paying far too much for drugs
Briefly, the Biden Plan would:
Cap individual health insurance premiums at 8.5% of income
Set up a public option like Medicare anyone could buy into
Allow 60-65 year olds to buy into Medicare
Have Medicare negotiate drug prices with manufacturers
Solve the Medicaid expansion problem by covering low-income folks in non-expansion states through a Federal program
Ban surprise medical billing for insureds that require out of network hospital care
Ensure pre-existing conditions are covered
The additional costs would be paid for in part by savings (e.g. drug costs) and abolishing the capital gains tax break for those making more than a million dollars a year. (More detail on this plan, along with pros and cons – is here.)
Does this solve the ACA's problems?
It's not a cure-all, but Biden's plan does go a long way to fixing the ACA's two biggest problems – healthcare is still unaffordable and prices are still too high.
For most families covered under the plan, healthcare costs would likely decrease significantly. The 8.5% cap on insurance costs is a major change as insurance premiums in many areas are north of $12,000 a year.
Healthcare providers would:
Scream if folks now covered by private insurers switched to a Medicare-type program as reimbursement would drop;
Cheer if a lot more patients had health insurance; hospitals' indigent care costs are escalating rapidly
The real problem with healthcare costs in the US is our prices for services are way too high. Covering a lot more Americans thru a government plan would force facilities and providers to get a lot more efficient.
Over the last six years I've done many a deep dive into the ACA's shortcomings and why they exist; posts are here.
Bob Laszewski penned a very good piece on the plan here. Well worth a read.