This is getting real.
I woke this morning to the news that COVID has infected well over 10 million of us and killed almost a quarter million of our mothers, fathers, daughters, siblings, and grandparents.
Worse, the infection rate in the Midwest and Great Plains is exploding…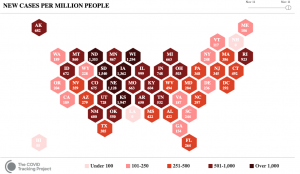 As is the overall US infection rate…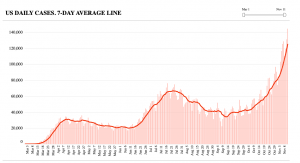 If anything, the trend line is worse than it appears, as it is an average of the last 7 days. With daily new case counts rising rapidly (Wednesday's count was 142,755), this third wave is looking more like a tsunami.
Latest research
The CDC is finally putting on its big boy pants…
CDC recommends community use of masks, specifically non-valved multi-layer cloth masks, to prevent transmission of SARS-CoV-2.
Wow…who would've thunk it??
Research determined that wearing masks protects the wearer as well as those around them. From CDC:
An investigation of a high-exposure event, in which 2 symptomatically ill hair stylists interacted for an average of 15 minutes with each of 139 clients during an 8-day period, found that none of the 67 clients who subsequently consented to an interview and testing developed infection. The stylists and all clients universally wore masks in the salon as required by local ordinance and company policy at the time.
Make sure your masks:
have multiple cloth layers and/or
are made of silk or
polypropylene.
Vaccine progress
The NYTimes' excellent – and constantly updated – vaccine progress tracker reports there are:
no vaccines currently approved for wide use;
6 vaccines approved for early or limited use; and
11 more in large scale efficacy (does it work?) testing.
Pfizer's vaccine shows a lot of promise, with early results from a large study indicating it was 90%+ effective in "preventing the disease in individuals with no prior history of the disease."
The vaccine has some significant logistical challenges which will make distribution tricky indeed; it:
requires two doses;
must be kept cold – as in 112 degrees below zero cold; and
is going to require a massive effort to get enough doses out fast enough to bend the curve.
Notably, Pfizer did not take any taxpayer money to fund its research, and its executives specifically stated the company is not participating in "Operation Warp Speed."
Hospitals in ten high-infection states are at or beyond capacity.  From the Atlantic;
According to local news reports, hospitals are already on the brink of being overwhelmed in Iowa, Kansas, Minnesota, Missouri, Montana, North Dakota, Texas, Utah, and Wisconsin,
Implications
Expect a return to limited availability of facility-based medical services. Hospitals are going to have to cut back on elective services to maintain capacity.
More states will mandate restrictions on group gatherings and business operations. New York has already done so, along with North Dakota and I'm sure several others.
There will be significant economic effects.
What does this mean for you?
If everything goes well, by spring 2021 – that's late March – there may be enough of us vaccinated to slow the virus' spread.
Be responsible. Wear a mask.