After a brutal three weeks of 12 hour work days, finally came up for air late yesterday. The water is receding, so should be able to get back to my posting duties on a regular basis.
Let's get right into it.
COVID's mutations are likely to put off a full recovery till late summer or even fall.
While quite rare, viruses mutate during replication – genetic material gets shuffled around, mixed up, and re-ordered. In most cases the result is pretty minor, or "fatal" to the virus' replication (as viruses are not technically "alive", "fatal" isn't exactly the right term, but close enough.)
Mutations are even rarer for the coronavirus.
So that's the "good news".
The bad news is this – with hundreds of millions of people infected, each producing hundreds of millions of individual viruses, there are lots of opportunities for the virus to mutate.
That's why we now have at least three separate instances of a mutation that appears to make COVID more transmissible. While only one – the UK variant – appears to be slightly more deadly, the overall impact is not good.
Even more worrying, these mutations also appear to make antibodies (one of the immune system's tools to attack viruses) and perhaps one of the vaccines less effective.
The good news is the Moderna and Pfizer vaccines appear to work almost as well against COVID mutations as they do against the "original" virus. So far.
Meanwhile, vaccinations in the US are few and far between. With only one out of 12 Americans vaccinated to date, we have lagged far behind the world leader – Israel – which has vaccinated over a third of its population.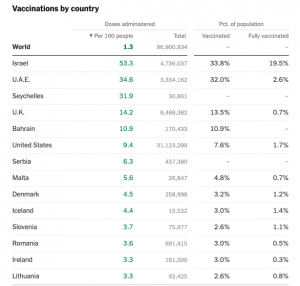 Amazingly, there are idiots seeking to stop or prevent COVID vaccinations; these people are complicit in the deaths of the 440,000 Americans who've died from COVID. (photo credit halperry)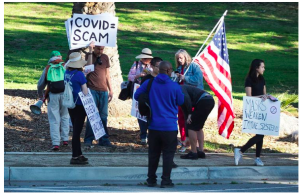 What does this mean for you?
 Wear an FDA-approved N95 or KN95 mask. Not a cloth mask, not a bandanna, not a "surgical mask. (Thanks Mary!)
Prepare for at least six and maybe nine more months of COVID. It stinks and no one likes it and all that – we all need to suck it up, stop whining, help each other out, and power through.
If you can, help out the less-fortunate. Be kind and be generous.