Cheap stuff isn't cheap…you always pay way more than you think…because the hidden costs of that cheap stuff are damn expensive.
Two examples…
Walmart's slogan is "Save people money so they can live better."
McDonald's mission statement includes "make delicious feel-good moments easy for everyone."
The two giants (and McDonalds franchisees) employ over 4 million workers, paying wages that are significantly higher than the Federal minimum (which is $7.65 an hour) – but certainly not a "living wage." McDonald's shift workers make less than $10 an hour; Walmart's was a lot higher, almost $15 an hour.
In just 6 states, 15,000 Walmart and McDonalds workers and many of their families are on Medicaid. Undoubtedly tens of thousands more get their healthcare from free clinics or in hospital ERs. This is especially true in states that did not expand Medicaid – looking at you, Florida, Mississippi, Arkansas, Alabama, and a dozen more.
The median cost of Medicaid – which is NOT per employee, but the employee and dependents enrolled in Medicaid – is about $8000. If we figure just 20% of Walmart and McDonalds' employees on Medicaid have dependents, taxpayers in those six states are paying $120 million a year for Walmart and McDonalds' employee healthcare. 
Add to that the cost of uncompensated care for the uninsured – which is subsidized by overcharging privately-insured workers and workers' comp payers – and its blindingly obvious cheap stuff is far from cheap.
This isn't just Walmart and McDonalds; workers at Uber, DollarGeneral, Fedex and Amazon and many other companies get their health insurance – and supplemental food aid – from you, the taxpayer. In fact, more than half of Medicaid enrollees are employed by private companies.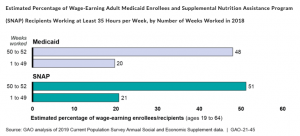 Make no mistake – I'm not blaming McDonalds or Walmart or any other company for doing what they are doing – or rather not doing.  Americans are addicted to buying lots of stuff (a lot of which is redundant or really not needed) and demand low prices.
What does this mean for you?
These companies are giving us what we demand, and we are paying a hefty price for cheap stuff.