Some good news on the COVID front – well, good compared to the $%*#%Storm we've had for two years.
First, the good news is tempered by reality – Omicron is incredibly transmissible. It feels like you could catch the damn thing if you drive by a patient on the highway.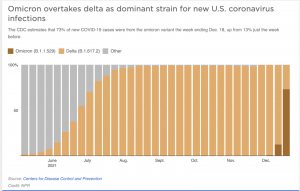 Three studies published yesterday or just before agree – Omicron-infected patients generally aren't as sick as those infected with other variants. A UK study and one in Scotland had similar results – Omicron patients had less severe and shorter hospital stays – and fewer of them. Another from South Africa indicated Omicron patients were hospitalized a quarter as often as non-Omicron patients.
Warning – these are PRELIMINARY reports and have not been peer-reviewed; it is possible results will change after the review process is completed.
And, Pfizer's COVID treatment bill got the nod from the FDA. From FiercePharma:
Pfizer has agreed to supply the U.S. with 10 million courses of Paxlovid for $5.29 billion ($529 per course). On Wednesday, the company also revealed it will supply 2.5 million courses to the U.K. on top of a previous agreement for 250,000 courses.
Paxlovid will only be available – for now – via the FDA's Emergency Use Authorization (EUA). If you aren't vaccinated because you think the vaccines didn't go through enough testing, you need to understand that Paxlovid has had far less testing – and there's been zero real world experience with it.
So here's the bad news.
Because far too many of us are NOT vaccinated, hospitals are swamped with COVID patients – the vast majority of whom are unvaccinated. So, while Omicron isn't as deadly as other variants, the fact that it is far more transmissible means there are going to be many more patients who WILL be hospitalized, need ICU/CCU care, and many of whom will die.
What does this mean for you?
Get vaccinated and wear a mask. 
Or don't ask for Paxlovid if you get COVID.