You may have noticed President Biden's request for $15 billion in additional funds to cover vaccines, anti-virals and other COVID-related needs failed.
Fortunately, it's back on the table.
Unfortunately, part of the funding may come from work comp payers.
The latest news out of Capitol Hill is a there appears to be agreement on a $10 billion COVID care funding bill. While that's a lot less than the $2 billion the Feds are spending each moth for vaccines, treatment, and related expenses, it's a whole shipload better than nothing.
The workers' comp angle appears to be a response to Republican concerns over where to find the funds; while some (amount to be determined) dollars will come from unspent stimulus funds, there's an unknown gap – and Republicans will not approve the new bill unless funding is a) guaranteed and b) is not "new" spending.
Enter over-reserved and super-profitable workers' comp…the industry's stellar underwriting margins during the COVID era make it one of the select few sectors that thrived during COVID. That and the sense among some that the inconsistent way states dealt with presumption reduced the comp insurance industry's costs make comp an attractive target.
From Yahoo news:
"My view is that it ought to be entirely paid for out of money that's already in the pipeline by reprogramming it for whatever amount they can justify to get the job done," Senate Minority Leader Mitch McConnell, R-Ky., said Tuesday.
Except…it looks like COVID funding will be fully utilized:
There's this from The Hill:
"I don't think the Dems would agree to offsets that would allow them to cover that. So it's dropped down to the size that they were willing to pay for," Thune told The Hill.
"That $5 billion piece could be easily part of the package, but they are just reluctant to repurpose funds, and there's a whole pile of them sitting out there," he added.
Side note – A LOT of people are about to lose health coverage as the COVID-era Medicaid funding supplement is about to expire, leaving those people uninsured (continuing Medicaid funding could have helped make up any shortfall).
The Dems a) want to keep the global vaccine program funded, while b) Republicans don't want to spend. From The Hill:
Romney and Schumer have been swapping offers on a list of potential ways to pay for a deal throughout the week, with Republicans arguing there is more than enough to cover a bill for the full $15.6 billion.
How work comp got into the conversation is anyone's guess; here's my speculation:
Initial research indicated work comp-might have to spend billions on COVID care; that turned out to be wildly over-stated (of course researchers had very little information to go on)
Congress' budget folks likely a) saw the reports and b) know the industry spent a small fraction of the "potential" costs
Work comp is outside federal funding or federal responsibility…politically it's easy to spend dollars from someone else's wallet
The massive profits earned by work comp payers, plus the industry's $14 billion in "excess" reserves make this a very attractive target. 
From Politico:
"I just cannot support another round of Covid funding that just completely eviscerates our ability to be, as Joe Biden put it, the arsenal of vaccines for the world," Rep. Tom Malinowski (D-N.J.) said. "We have to get it right."
So, we have:
politicians looking to have something positive to say when they head home for the Easter break;
another COVID wave may be on the way;
a major funding gap, and
a super-profitable, wildly over-reserved insurance sector with little-to-no sway on Capitol Hill.
How this works out – or if it does – is also anyone's guess.
What does this mean for you?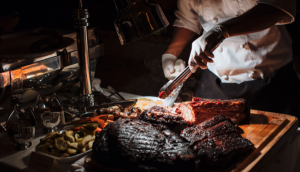 As the old lobbyist says: "If you aren't at the table, you're on the menu."