With all the attention paid to abortion these days, I thought it worthwhile to dig into the financial and health impact of abortion and childbirth.
First, the cost.
Women who give birth incur about $19,000 in additional healthcare costs compared to women who don't.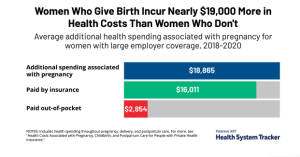 And that's for women covered by large employers' health plans.
Second, medical debt.
Lower-income adults in the South and/or in states that have not expanded Medicaid are much more likely to have medical debt than the rest of us.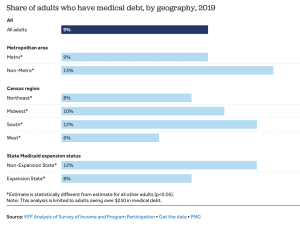 Third, coverage.
About 13 million of us will see their health insurance premiums jump in January unless Congress acts. The issue is subsidies for lower-income folks who get their insurance via the Exchanges will expire at the end of this year unless they are extended. So far, the chances for an extension don't look promising.
Fourth, societal costs.
Almost half of the women receiving abortions have incomes below the poverty line.
Lives will be hugely impacted, as "the expansion of abortion access … reduced teen motherhood by 34% and teen marriage by 20%"
Women who are denied abortions are three times more likely to be unemployed than women who were able to receive one, according to a 2018 study.
Women who were not allowed to access abortion services had nearly a four times greater chance of living below the federal poverty line.
And…"research shows that in 2010 the public paid just under $13,000 on "prenatal care, labor and delivery, postpartum care and 12 months of infant care." per birth."
Connecting the dots.
States that have or are likely to ban abortion are:
unlikely to have expanded Medicaid,
have much more restrictions on Medicaid coverage so far fewer people qualify for Medicaid, and
therefore many more poor women who are forced to have children will have higher medical debt,
will not escape living in poverty, and their child will grow up poor.
What does this mean for you?
If one is going to force people to do things, one should understand and be responsible for the consequences.