In the esoteric world of workers' comp, California's "med-legal" issues rank near the top of issues bound to frustrate/infuriate.
Med-legal (analogous to physician review or independent medical exam) may have even moved up a notch or two, as expenses have zoomed after a change in the med-legal fee schedule that went into effect in April of 2021.
The change was intended to:
simplify the payment structure by replacing several variations with one flat-fee
increase the number of QMEs – Qualified Medical Examiners
and increase the number of oncologists and toxicologists,
reduce overuse of "supplemental" reports
do this all without more than a 25% increase in aggregate med-legal fees.
CWCI's research indicated that results appear to be far less than intended…
the number of QMEs increased slightly – up 134 – with most ortho surgeons – NOT oncologists and toxicologists
there was no decrease in supplemental report services (e.g. billing for more pages reviewed)
and the average paid per month for comprehensive evaluations went up more than 50%.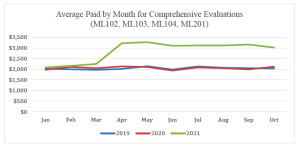 Thanks to CWCI for sharing the details…need more details?
Sign up for CWCI's webinar on Wednesday, July 27 at 10 a.m. (Pacific). Senior Research Associate Stacy Jones, who authored the study, and CWCI General Counsel Sara Widener-Brightwell, will review those changes and discuss the results of the study.  The program will be followed by a live Q&A session.
What does this mean for you?
As if we needed it, another entry in the Hall of Unintended Consequences tells us – YET AGAIN – regs have to be carefully thought through, responses anticipated and planned for, profiteer strategies gamed out, and then – AND ONLY THEN – finalized.